If you're looking for a special camping spot that offers plenty of activities and gorgeous views, Taughannock Falls State Park is an excellent option! Situated in the heart of New York's Finger Lakes region, this state park offers campers a variety of options for enjoying their stay.
While the star of the show is the namesake Falls, there is a lot more to do here.
Let's take a closer look at what it's like to camp at Taughannock Falls State Park, from the campsites themselves to the amenities and activities available nearby.
Taughannock Falls State Park Campsites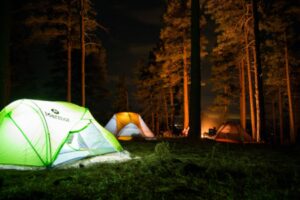 At Taughannock Falls State Park, there's a total of 68 campsites to choose from. They're all stationed around the Recreation Shelter, just northeast of the Service Area. The campsites offer a variety of camping options, from primitive sites to full-service RV and tent sites. The campsites at the park offer full shade for tents, which is great news for those who like to camp in the summertime. Many of the sites also offer a fireplace and electrical hookups, so campers can enjoy a comfortable getaway. Only some have picnic tables, however, so campers are encouraged to bring a kind of their own.
All of the campsites at Taughannock Falls State Park offer stunning views. No matter which site you choose, the park provides plenty of amenities to make your stay comfortable. There are several restrooms and showers located within the area, as well as water fountains and food concessions. Within the campsites, you can participate in countless activities including bird watching, boat launching or boating, canoeing, fishing, jet-skiing, hiking, swimming, power boating, and much more!
Buttermilk Falls Campground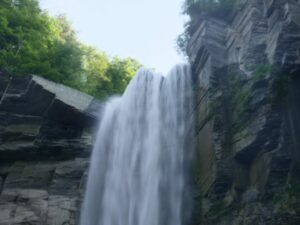 For those who are looking for a nearby campground, just a few miles away is the Buttermilk Falls Campground. This is another great spot for families or groups of campers looking to enjoy a peaceful getaway. The name comes from the foaming cascade that was formed by Buttermilk Creek as it flows toward Cayuga Lake. In the lower part of Buttermilk Creek Falls State Park is where you'll find the campground. The surrounding view is nothing short of breathtaking, with lush greenery and rocky streams.
Make sure you book far in advance because reservations for the campsites here can fill up several months beforehand. There's a one-night minimum stay and you can only bring a maximum of two sleeping tents or a single camping unit and one small tent. There are dozens of cabins available if you need a more comfortable stay. However, the cabins don't come with bedding, cookware, or heat — they're very rustic! Buttermilk Falls also offers plenty of amenities, including a playground, playing fields, restroom and shower facilities, and picnic tables.
Watkins Glen Campground
Another nearby campground is Watkins Glen Campground, which is located a few miles from Taughannock Falls. This campground has 275 campsites, 9 cabins, and 3 pavilions. The sites here offer a huge variety of services and amenities. You'll find dump stations, showers, playgrounds, picnic tables, swimming pools, water stations, basketball and baseball courts, gift shops, food concessions, and far more.
Watkins Glen is particularly known for its activities and attractions, such as hiking trails that guide you to the beautiful gorge, a wildlife sanctuary, a nature center, and several other fun places. You can set up campfires under full shade and enjoy the views of the nearby lake or take a walk to one of the 19 waterfalls that are located in the vicinity. One of the campground's most notable attractions is the Watkins Glen International racetrack. You can also take photos of the glen's stream that descends 400 feet past giant cliffs that are 200 feet high!
What To Do at Taughannock Falls State Park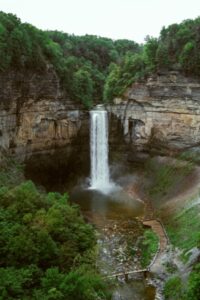 Taughannock Falls State Park is an absolute paradise for outdoor activities. You can go swimming, fishing, boating, kayaking or canoeing, and so much more — there's something for everyone here.
One of the park's most popular activities is hiking as it boasts miles of trails that stretch along the gorge. Some of the best trails include the North Rim Trail, Taughannock Nature Trail, Gorge Trail, and the North Country National Scenic Trail. A way to explore the park's unique beauty, you'll find everything from peaceful forests to cascading waterfalls.  You have a few different hikes of various difficulty levels, and given the destination falls these hikes are among the best hikes in New York.
Another great activity is swimming in the park's lake and creek. There are numerous sandy beaches and grassy areas that make for great spots to lie down and soak up the sun. You can also take advantage of the many recreational activities, such as fishing and boating. There are boat launches available, as well as a covered pavilion for picnics and barbecues. For those who love to fish or boat, Cayuga Lake is a great spot to do so.
Being around the Finger Lakes, you are also close to some good New York fly fishing, if that is your thing. The streams around the Finger Lakes have some excellent options, with hatches all throughout the year. Bring your waders, and give the fishing a try. Just know that the streams are surrounded by trees in this area, so watch your back cast.
In addition, the park offers plenty of programs, such as outdoor sports instruction, nature walks and talks, educational lectures, and more. There are museums, galleries, and historic sites nearby that you can explore. The park has a camp store, where you can buy most of the essential camping supplies you need. If you're looking for something relaxing, make sure to bring some birdwatching equipment! There are countless bird species that you can spot in the park.
Taughannock Falls and the surrounding areas are also known for its unique geology, the nearby Finger Lakes, wineries and breweries, go shopping or dining, and more. The park itself even provides many special events and programs that you can join in on, such as a full moon hike and photography program. If you want to make the most of what the park has to offer, check out the calendar of events beforehand and book your reservations. Whether you're an outdoor enthusiast or just looking to take it easy, there's truly something for everyone at Taughannock Falls State Park.
Best Sights at Taughannock Falls State Park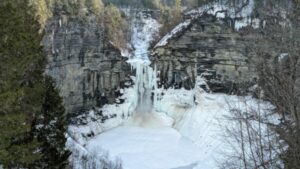 Taughannock Falls State Park is home to some of the most stunning natural sights in New York. One of the park's main attractions is, of course, the Taughannock Falls. This is the tallest single-drop waterfall east of the Rocky Mountains. The falls plunge over 200 feet into a gorge and provides the perfect backdrop for any activity. The park as mentioned is also home to 19 different waterfalls that are located around the campground. Each waterfall has its own unique beauty, with some cascading over huge cliffs or tumbling down a gentle slope. Some of the other best sights include the Watkins Glen International racetrack and Cayuga Lake.
The park also offers other unbelievable sights, such as around the Finger Lakes region and the Susquehanna River. The lakefront at the park also provides plenty of opportunities for water activities. But regardless of what you're doing, the sights and sounds of Taughannock Falls will leave you mesmerized. From the birds and deer to the wildflowers and trees, this park is a nature lover's paradise.