Ice Fishing Boots
I've spent more days than I can count standing on a frozen lake trying to catch everything from Northerns to Perch. One thing I have learned is that if my feet get cold or wet, the whole experience starts to become less fun.
When it comes to ice fishing, having the right gear is essential to staying warm and comfortable in the harsh winter conditions. Maybe the most important piece of gear for any ice angler is a good pair of boots. Ice fishing boots need to keep your feet warm and dry, but also give you enough traction so you can move around on the ice.
Having become a bit of cold weather boot connoisseurs, my partners and I have put lots of boots through the wringer in all kinds of conditions. The four below are the ice fishing boots we would recommend to anyone who plans to spend time on the ice this winter.
Best Ice Fishing Boots
Baffin Impact Boot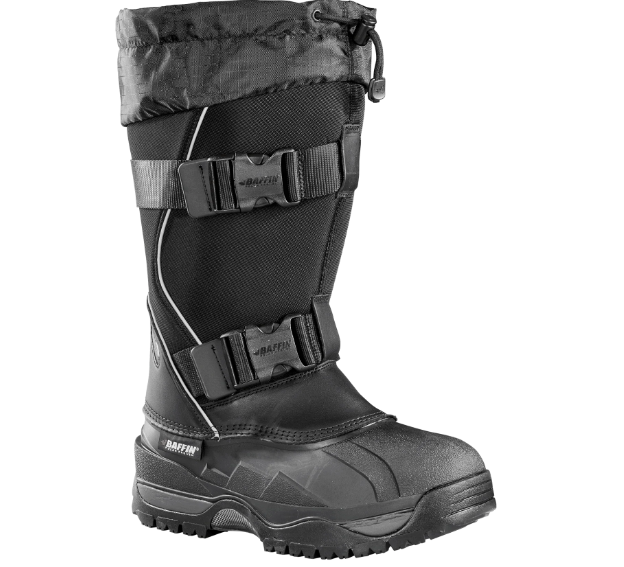 We are big fans of the Baffin Impact Boot for ice fishing. These boots are made with a -100°C/-148°F temperature rating, which means they will keep your feet warm even in the coldest of temperatures. They are a great option for people who typically fish outside without the aid of a portable heater inside an ice fishing shelter.
The Baffins are also waterproof, making them perfect for fishing on the ice. The boots are made with a durable nylon shell and a removable liner, which makes them easy to clean and maintain. I like the cinch strap at the top because it can prevent cold air flow or sleet from entering if you encounter rough conditions. The only downside to these boots is that they can be a bit heavy, which may cause some discomfort after long periods of wear, or if you have to walk across the lake to your ice fishing spot.
Pros:
Very warm, aided by the cinch strap at the top
Waterproof
Durable
Cons:
Sorel Caribou Boot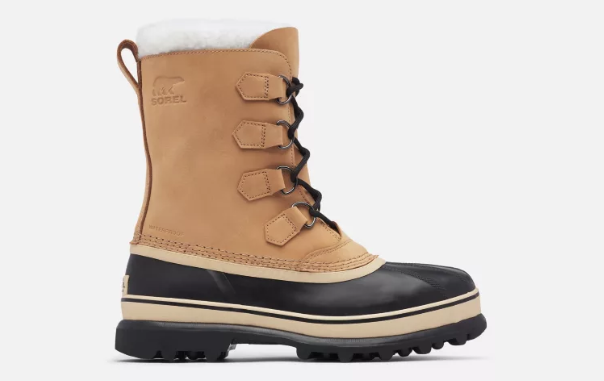 The Sorel Caribou Boot is a classic-looking winter boot that works great for ice fishing. These boots are made with a waterproof full-grain leather upper and a removable 9mm recycled felt inner boot, which makes them both warm and comfortable. The boots are also equipped with a waterproof vulcanized rubber shell, which provides excellent protection against the elements. One thing about Sorels is that they can be a bit bulky, which may make them a little more difficult to maneuver in if you are trying to move fast.
Something I have always liked about Sorel boots is that they are very comfortable for a winter boot. They have a few liner options, giving you the combination of warmth and feel that you might need. I've also had my Sorels last for a LONG time, especially if you touch them up with some waterproof each season.
Pros:
Very comfortable
Removable liner – can be replaced if worn
Waterproof lower section
Cons:
Heavy sole, making them a bit clunky
Leather upper might require waterproofing touch-up
Muck Arctic Boot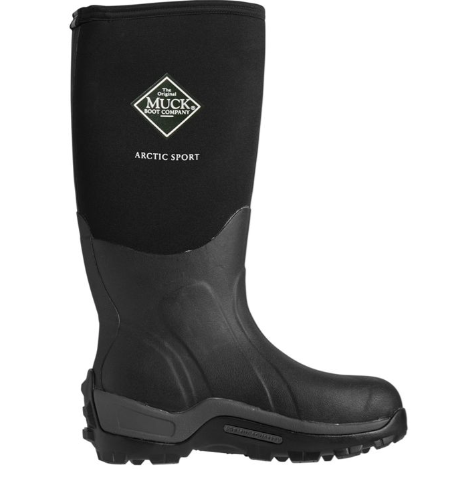 The Muck Arctic Boot is a great choice for those who want a comfortable and warm boot for ice fishing. These boots are made with a 5mm CR Flex-Foam neoprene bootie and a fleece lining, which makes them both warm and comfortable. The boots are also waterproof, which makes them perfect for fishing on the ice.
I like the rise on these boots, they can go up nearly to your knee depending on how long your legs are. This makes them great for spring fishing when you never know if the snow will be slushy or you might get some standing water on top of the ice on lake edges. It also makes them great for walking through deeper snow or snowdrifts, and they can be a good hunting boot for cold-weather waterfowl hunters too.
Pros:
Excellent warmth
Nice height
Good waterproofing
Cons:
Have heard about some durability issues (but haven't experienced myself)
XtraTuf Boot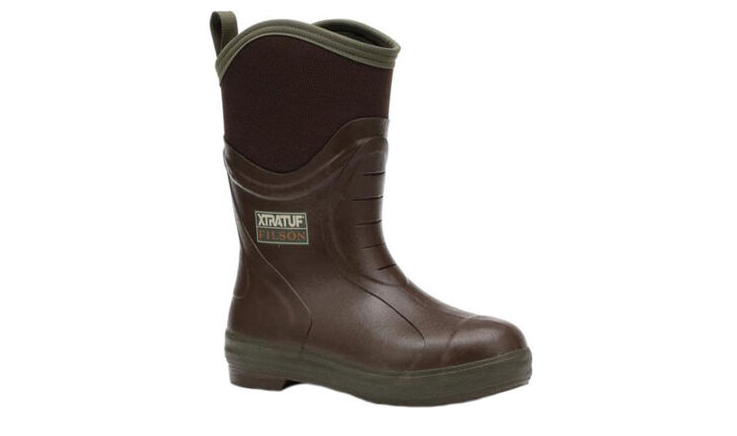 The XtraTuf Boot is one of my favorite ice fishing boots for warmer conditions, or when you are layering on your feet. These boots are made with a durable neoprene upper and a slip-resistant rubber outsole, which makes them both comfortable and safe to wear. The boots are 100%, absolutely waterproof, unlike some others that say they are waterproof but lose that quality after some rugged wear.
The are the boots that you will see many using on a Northern Atlantic fishing boat.
I also like that the XtraTuf is a bit lighter, making them nice when I need to walk across the ice to the spot I'm looking for. Because of the focus on waterproofing over insulation, these boots is that they may not be as warm as some of the other options on the market. There is a version sold by Filson which I have used, but Xtratuf is also sold by the manufacturer.  I use the 12″ version because it is lighter, but a 15″ Xtratuf is available too.
Pros:
Extremely waterproof
Lightweight
Great if you know that you will encounter wet snow or water
Cons:
Not super warm, but fine with thicker socks
What to Look For in Ice Fishing Boots
If you go to an outdoor sporting goods store, you will see dozens of features listed for every boot they are trying to sell you. My observation is that there are really three or four things that are really important, though. Here are the things I would look for:
Insulation
Insulation is one of the most important things to know about the ice fishing boots you are looking for. You need to keep your feet warm in cold temperatures, it will help you stay out on the ice for longer periods of time. Look for boots with at least 400 grams of insulation, and consider going up to 800 grams or more if you plan on fishing in extremely cold temperatures.
The other option is to go with a slightly lighter boot if you prefer to wear thick, heavy wool socks. But having some level of insulation in the boot is critical.
Waterproofing
Waterproofing is a critical quality for your ice fishing boot to have. You want boots that will keep your feet dry, even if you're standing in a foot of slush or water. Look for boots made with waterproof materials like Gore-Tex or neoprene, and make sure they have sealed seams to prevent water from seeping in. The water isn't always obvious – sometimes it is from snow that hits your warm feet, melts, and then creates a cold, wet foot.
Waterproofing needs to be a non-negotiable.
Traction
Traction is important for staying safe on the ice. Look for boots with a non-slip sole that provides good grip on both ice and snow. Some boots also have cleats or studs built into the sole for even better traction.
Or, you can get boots that will comfortably fit some crampons so you can walk on the ice.
Height / Rise
How far up your calf the boots go is an underrated factor. Boots that come up higher on your calf will provide more warmth and protection, but they may also be bulkier and less comfortable to wear. If you might be around uncertain surfaces, a taller boot gives you the ability to step in deeper slush or water without having the water sneak in over the top of the ankle. Look for boots that come up to at least mid-calf, but consider going higher if you plan on fishing in deep snow or slush.
Choosing the Right Size
The bottom line on sizing and boots: Err on buying a little too large.
Small, tight boots give you all kinds of issues. They reduce airflow inside the boot which, perhaps ironically, will make your feet colder faster. Small boots reduce the ability for you to comfortably use thick or layered socks, or foot warmers. They also can cause blistering.
I like to choose an ice fishing boot that I can wear my thickest winter socks in without having my foot feel scrunched up. That gives my foot the ability to create some warmth that my sock can then capture and keep around my foot.
If my boots are too tight, the circulation of both heat and blood is cutoff, and my foot gets cold much faster.
Maintenance and Care of Ice Fishing Boots
Proper maintenance and care of your ice fishing boots is essential to get your money's worth out of boots. They should last you several years.
Here are some tips to help you keep your boots in top condition:
Clean your boots regularly: Wipe down your boots with a damp cloth to remove any dirt, debris, or salt. This will prevent the accumulation of grit, sand, salt, or other things that can damage the materials of your boots.
Dry your boots thoroughly: After cleaning, make sure your boots are completely dry before storing them. Wet boots can lead to mold and mildew growth, which can cause unpleasant odors and damage the materials. If you are really serious, you can buy some boot dryers that gently dry and warm the boot in a couple hours after using them.
Store your boots properly: Store your boots in a dry, cool, and well-ventilated area. Avoid storing them in direct sunlight or near a heat source, as this can cause the materials to break down and deteriorate. One of the biggest culprits of reducing a boot's life is storing them in a spot that is so tightly packed, that you bend and deform the boot. Once you do this, but boot might never get its shape back, and it might even result in a puncture.
Treat your boots with a waterproofing spray: Depending on the material, I give my boots a fresh spray at the beginning of each season. Choose a good waterproofing spray, apply it thoroughly, and let the boots dry. Repeat. This is a job that should not be rushed. This is even more important if your boots have leather on them.