When it comes to fishing for bass, walleye, panfish, and other freshwater species, the rod is perhaps the most critical piece of gear. With a good rod, a reel, and a good tackle box of standard supplies, you can experience great fishing in many places.
A good rod allows you to do four things that are very important: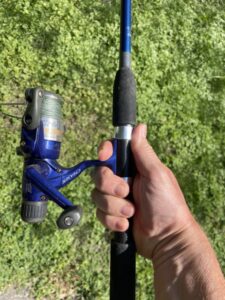 Cast accurately.  A good rod has just the right touch in it to be able to allow an experienced fisherman to launch the lure exactly where he or she wants it. This involves using a rod that has the right balance of flex and stiffness for the lure that you are most likely to be throwing.
"Feel" the fish.  A rod with just the right sensitivity allows you to feel the fish nibbling, and for that matter, the bottom of the lake or river and rocks. If you are using heavy bottom bouncers, a different rod is needed than if you are using light jigs in calm water. The fish feel completely different in those two situations.
Set the hook.  The flex in a rod allows you to set the hook with authority, but with a soft enough set so you don't rip the hook away from the fish.
Not break. You want a rod that is durable.  The rod material, guides, and reel seat should all be strong enough to hold up to normal wear and tear. Of course, you also need to take good care of the rod, too.  Most rods break from someone stepping on them in the boat or during transit.
Beware, though, as not all fishing rods are created equal. You want a rod that is crafted from materials that will last a long time, and be able to stand-up to some banging around in a boat or nasty weather. And you want a rod that is designed to be strong enough to land your catch, yet sensitive enough to allow you to feel the slightest nibble. Creating that combination is actually a pretty tall order.
Casting vs. Spinning Rods
One of the main things you will want to understand when it comes to freshwater fishing rods is the difference between casting and spinning rods.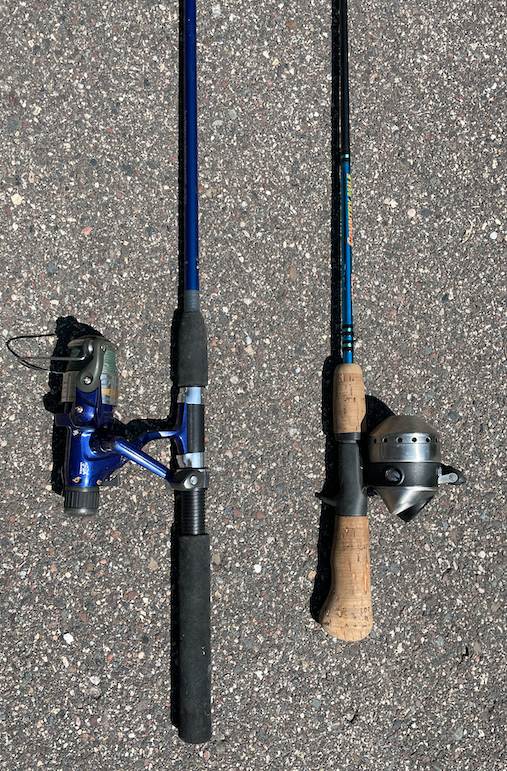 First, let's talk about the casting rod. These rods are designed to handle heavier line and lures, making them perfect for tackling large fish that put up a fight. They are coupled with a casting reel, with its spool positioned atop the rod, allowing for precise control over casting distance and accuracy. It demands a certain level of skill and finesse to master the art of casting, but once you've got it down, you will be surprised how well you can hit small targets.
Next, let's shift  to the spinning rod, a versatile tool beloved by many anglers. Spinning rods excel when you are boat fishing and not relying on long casts for your primary technique. The spinning reel is positioned beneath the rod, allowing for easy line management. With a spinning rod, you can effortlessly cast lighter lures and tackle, making it ideal for targeting smaller fish species. Whether you're dropping a finesse worm or delicately presenting a topwater bait, the spinning rod grants you the finesse needed to seduce even the most cautious fish.
When I am fishing for walleye or anything where I am jigging or trolling from a boat, I go with a spinning rod setup.  If I am casting for northern pike, muskie, bass, or doing any kind of shore fishing, I go with a casting rod setup.
I also prefer casting rod setups when fishing with kids, so I can put a closed-feel reel on it with an easy-to-use casting button.
Remember that the rod type you choose influences the reel type.
Best Freshwater Fishing Rods
There are a lot of options on the market but the following ones meet the criteria of strength, durability, and sensitivity.
Bass Fishing
Bass fishermen are extremely choosy about the rods they use. They need flexibility and sensitivity, but they also want perfect balance so they will be able to cast farther distance with more accuracy.
St. Croix Bass X
St. Croix keeps improving the Bass X, and we keep liking what they are doing.
These premium fishing rods are crafted from SCII graphite blanks that give them the strength to handle the hardiest of fish and the lightweight features that the anglers crave. These rods come equipped with guides made from hard aluminum oxide, which is helpful in helping them stand up to wear and tear on the shoreline, in the boat, or in your vehicle.  They have the Fuji ECS reel seat which works very well with most reels that we recommend. In other words, they aren't just nice to look at, they are sturdy enough to fish with. One of the beautiful things about the St. Croix Bass X is that they start at around $100 dollars so the majority of anglers can afford to have one, or more, in their collection.
Pros:
Durable, with strong guides
Lightweight for how strong it is
Good value
Cons:
Limited product variations compared to others
Loomis GLX
The GLX is not a newcomer to the G. Loomis line, but it is by far one of the best bass fishing rods on the market, and they have been building graphite fishing rods since the early 90s so are one of the pioneers in this space.
While Loomis makes plenty of regular bait-casting rods too, their bass rods are notable and you will see plenty of them in any bass tournament.  The GLX pushed the St. Croix Legend Glass out of the way to take the best bass fishing rod option with its new reel seat and its lighter more sensitive blanks that provide superior balance. The rods are designed with a Fugi 'K" frame guide that is titanium and SIC rings will improve your casting. This makes the rod a viable tool in your angling arsenal for a much longer period of time. The GLX is a high end piece of equipment, but worth every penny.  (If you need to save money, you can get a lower-end, but still very good, Loomis bass rod for about 1/2 of the GLX price).
You can really customize the GLX, which is one of its big benefits.  It comes in a variety of lengths (between 6 and 8 feet) and 3-4 weights so you can ensure you have the right rod for the type of fish you are focused on.
This is a rod you will want to take care of given its price, but if you do, you will love it.
Pros:
Incredible rod balance and flex
Many various weights to choose from, so you can match the rod to your type of fishing
Cons:
Catfish Rods
When fishing for catfish you want a rod that is sensitive enough to feel the first little "bump" yet strong enough to pull in that big blue cat without any difficulty. You also want a rod long enough to give you good leverage, and the ability to handle heavy test line.
Berkely Mudcat
The Berkely Mudcat casting rod is just as tough as the bottom dwelling fish they are named after, and surprise — these rods are less expensive than the bass rods listed above or the walleye rods down below. You would think that at that price you would have to replace the rod yearly, but the Berkely Mudcat is crafted from a fiberglass blank and has stainless steel guide frames and aluminum oxide inserts. Their rubberized handles are comfortable to grip, and they are made by Berkely so their quality is assured.
With a catfish rod, you need enough backbone to get the fish out of the brush and mud where they hang out.  This isn't like catching a sunfish that strikes your bait 12 inches from the water surface in clear water.  Fishing some of the rivers in Texas and throughout the South, you will want a sturdy rod.
You can get the Mudcat in a pretty heavy build, which is nice considering the size of some river catfish.  They typically run about 8 feet long, but again you can adjust as needed.
Pros:
Affordable
Does very well with large, heavy fish
A beast of a rod — quite durable
Cons:
Only two length options
Not sensitive enough for other types of fishing (e.g. Walleye)
All Purpose Rods – Walleye, Perch, Panfish
Shimano Solora 2-Piece Spinning Rod
Our Budget Pick. Don't want to spend a ton?  The Shimano Solora 2-Piece Spinning Rod is another affordable option is easy to store. You can keep one handy in your vehicle with little fuss.
It is available in lengths up to 7' and is made from an Aeroglass rod blank with aluminum oxide guides. The Shimano Solora has the flex and the strength you need in a rod to enable you to land a good sized fish. Beginners and pros will both like this option.
For us, given that we have a bunch of good rods already, we are always looking for extra rods to have in our stable.  I like to keep a rod or two rigged up with a completely different setup so I can switch techniques quickly.  And it can be nice to have a spare or two for guests, or if your primary rod breaks or is lost.
Pros:
Very inexpensive — a good rod to stock up on if you want to have a few backups on hand
Good sensitivity for jigging and bottom-bouncing
Cons:
Not as durable as rods made with higher-end materials
Berkley Lightning Rod
The Berkley Lighting Rod has been our go-to walleye rod for about 30 years.  It is tough enough to crank in the occasional Northern that bites on your walleye rig, but sensitive enough to really feel the bottom and be able to discern the fish nibble when jigging in calm water.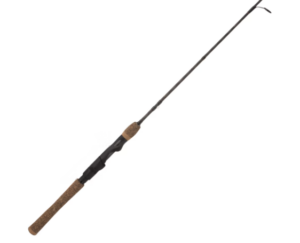 Its spinning rod version is a favorite of mine for walleye.
The rod comes in lengths from 5.5 feet all the way up to 7 feet.  We like the 7-footer for our walleye fish, although the 6.6 works great too.
Berkley uses stainless steel guides, which can be nice for those who are fishing near saltwater.  It is also a nice touch in general, just to make sure you minimize corrosion during storage.  The reel seat is secure and works with our favorite spin reels.  We like to pair Berkley rods with Berkley reels.
It doesn't break the bank, either.  We actually think it has come down in price over the years, which doesn't happen often.
Pros:
Strong and secure reel seat
Sensitive touch, for those fish with a lighter bite
4 rod lengths to choose from
Cons:
Really built for Walleye-sized fish; feels too light if you hook in to a Northern or Catfish
Ice Fishing Rods
During a few months of the year in northern climates, freshwater fishing is done through a hole in the ice. For these excursions, you obviously use different rods. They are much shorter and allow you to work the hole more directly than you could with a longer rod. We did an entire piece on ice fishing rods that goes into more detail, and we also profiled other ice fishing equipment too, like ice shelters and related gear.
Fly Fishing Rods versus Spin Casting Rods
Fly fishing rods are fundamentally different than spin casting rods, as they are capable of allowing the fly fisherman to fish with lots of line out and manipulate the fly in a way that spin casters don't need to.  We did a piece on fly fishing basics, you can find it here.