Summer camps can easily be one of the most influential times in a child's development. If it is held in a fun, safe, and inclusive environment, a child will easily thrive and grow throughout their time there. The magic of these camps is that a kid can develop strong values and a resilient personality without even realizing it.
What Camp Should You Send Your Child To?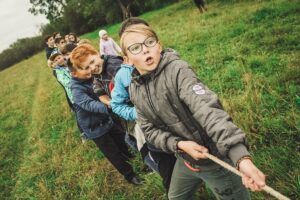 When I look back on my days as a camper, I remember them as the best days of my life. Of course, this experience was very subjective. Every child perceives the world differently, and the camp you choose will definitely impact the experience they have. Research is needed before you select a camp, but generally speaking, here are three different kinds:
Educational Camps
Educational camps generally focus on encouraging fun and development through teamwork. Groups of kids will be formed and given tasks based on the theme of the camp. Children in these may work on art, robotics, chemistry, archery, or something else.
This can be a good starting type of camp, as they sometimes require less commitment each day. Kids may only be expected to attend a few hours of the day. If you select one that is like this, though, there generally are not too many opportunities for a child to make meaningful memories or have strong takeaways. Of course, not all educational camps will be like this – some are very serious and require the kids to enter competitions. It's important to see the requirements of the camp before signing your child up!
Day Camps
These camps last the majority of a day (hence their name) and allow a child a decent amount of time to explore their environment and form friendships with fellow campers and counselors. Day camps often are much more activity-oriented, providing campers with a range of fun activities to focus on. This is extremely valuable to a child, as it affords them a degree of independence when they get to hone in on an activity that they personally enjoy.
Mealtimes at these camps are often also spent with a set group of campers and counselors, which is great for fostering a sense of community within the camp and helping the campers to open up and better connect with their peers.
Day camps can be a good first step into the summer camp world, perhaps before attending an overnight camp.
Overnight Camps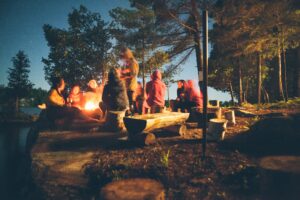 My favorite type of camp, overnight camps, allow campers the most time to develop and grow as a person due to the degree to which they can be immersed in the camp culture. In these, campers will most often reside in some sort of cabin arrangement, spending ample time with their cabinmates and counselors during the day.
However, this option do, of course, require a lot of commitment from the child and this should be taken into account. Parents can also talk to the counselors if they are worried about their kid and homesickness. Oftentimes, the best and most impactful experiences will be had at an overnight camp.
Each type of camp has its benefits and drawbacks, and some kids will progress through each type of camp as they get older and more independent. This is not to say that you must put your child into each type of camp – many children will go straight into overnight camps after only a few years of day camps and have excellent experiences. The decision of what type of camp to send your child to will depend heavily on how comfortable you think they will be with a new environment.
What Should You Look For In A Camp?
Now that we have gone over the general information regarding types of camps and how your children will fit into them, let's take a look at some of the key aspects of what makes a camp great:
Age of Staff
Typically, you want any camp your children will be attending to have counselors that are no younger than 17 years old. Though there is absolutely nothing wrong or bad with counselors younger than that, but 17 is generally where young adults begin to retain the most information from camp training sessions and start to perform very well while watching over children in camps.
Established and Trustworthy Reviews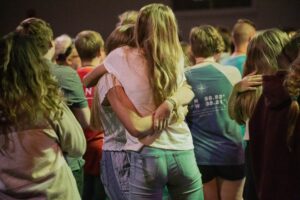 Never judge a camp based solely on the stars it may have on Google. Always look at the written reviews of campers and parents alike as this will give you a better idea of how the camp actually impacted the campers. Camp administrators will often respond to these reviews as well so you'll get a general sense of how camper families are treated by the organization.
A Clear (and Good) Mission Statement
If an organization is truly committed to giving your child a joyful and developmental experience, they will make it clear right off the bat. It should not take more than a minute on a camp's web page to find out what the camp does for your kids and why they do it. In fact, the administrators of a camp should really be excited about providing their services!
Plentiful Activities
Ideally, a camp you send your child to will have a very wide variety of activities to pick from. This idea of self-actualization is crucial to the growth and motivation of a child at camp, as they will be excited to do whatever it is that they have chosen. Lots of activities also will ensure that the camper is constantly engaged, allowing them a more enjoyable experience overall.
Different camps often have different themes.  Some might have activities that are heavy on music and the arts. Others might be all about outdoor exploration.  Still others might be about teaching basic outdoors skills, from paddling and canoeing, to how to build a fire, to classes on fishing or archery and the different types of bows.
It is best to look over the course and activity listing and make sure the camp offers the variety your child will be looking for.
Nutrition
Summer camp doesn't exactly have to be a gourmet experience, but you want your child to have access to quality food if they are expending energy all day.  If the camp serves meals (versus some day camps where your child brings their own), be sure the meals offer plenty of fruits, veggies, and protein, and are ideally homemade.  Obviously, ask about how they deal with food allergies if your child has them.  Finally, even if the camp offers meals, be sure your child brings a good water bottle (we love the Owala water bottle) so they can stay hydrated all day long.
What Camps Should You Be Wary Of?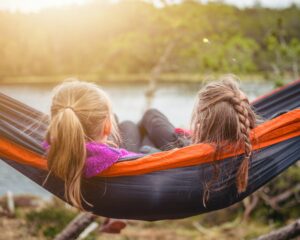 The tips above will definitely help you weed out the good from the bad, but there are a few traits to be aware of that may steer you away from some of the bad ones. You may want to choose a different camp for these reasons.
A Lack of Pictures or Information
A good camp is proud to share what your camper will do when there. They are transparent about the staff, lodging, daily tempo, and the overall experience.
Little to no information or pictures is never a good thing when it comes to camps and there is no such a thing as "surprises" or camps being "exclusive." If a camp seems to be hiding anything at all on a website or pamphlet, turn away and don't look back.
Location
If a camp seems to be in a weird or bad spot for being a child's camp, you are probably right. Though this does not necessarily mean that it will be bad or unsafe for your child, it could certainly serve as a detriment to their camp experience and it would probably be best to find somewhere else for them.
An Affiliation that you don't Agree With
Many camps, when you drill-in, are affiliated with a broader organization. It might be a religious sect or church, a special interest group, a niche community, or another type of group. Just for sake of example, some summer camps are backed by the NRA, which may be fine for some families but antithetical for others. Be sure you know if this is the case, so there isn't some kind of big misunderstanding later on.
A Request for an Unreasonable Amount of Money
Let me preface by saying that it is not uncommon for camps, especially overnight camps, to cost a bit more than would initially seem reasonable. Site upkeep, food, and board often creates a great deal of expenses for an organization, and therefore is reflected in the price of enrollment.
Now, what is not natural is when a camp seems to keep creating new fees or costs for you after or during your enrollment of a child. There should be one flat fee (with information on the fee) for enrollment, perhaps the ability to create an account for a store on site, and nothing more. Anything else, though, and you'd be best taking your money and time elsewhere.
Though it can seem like a lot of work, finding the right camp for your child will absolutely make the difference. The best camp for them will almost undoubtedly create positive memories that will last them the rest of their lives, and it is also a terrific way to make use of a crucial time in their development. Putting them in a positive and kind environment will do a lot to turn them into a positive and kind person, giving them fun experiences all along the way.