Set just to the west of Lake Tahoe, Bassi Falls has a spectacular 500 feet high waterfall, and the trails are challenging but worth it!  This hike is extremely popular, and it's just one of the many waterfalls in California. It's a short and easy hike with plenty of picnic, swimming, and hangout spots for those looking for some time out with their friends and family.
Is Bassi Falls Worth the Hike?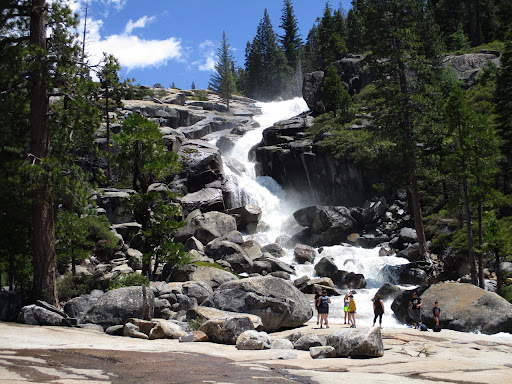 Bassi Falls is a relatively short 3.6-mile hike, but it's one of the most rewarding. The waterfall itself is absolutely incredible and can be seen from so many points on the trail. The hike itself is fairly easy and can be done by pretty much anyone. If you've ever gone on a hike before, then you should be able to hike Bassi Falls.
The hike is kid-friendly, so it's a great place to spend time with the family. However, Bassi Falls does have some parts that are steeper and require more balance, so you should always hike with caution. Always pay close attention to where you're stepping–like with any hike! We recommend this hike to anyone looking for a quick and easy adventure.
If carrying gear like a camera — which is common given how photogenic Bassi Falls is — considering having it in a backpack or on a 3-point sling.  That way you can focus on balancing during the hike.
Bassi Falls is definitely worth the hike because of how beautiful it is. The river has crystal clear water and there are plenty of rocks to sit on if you just want to chill out and take in the view. There are plenty of swimming spots to adventure in, too. So, don't forget to bring your bathing suit!
The hike can get pretty busy, especially during peak seasons like summer and early fall. It may be a good idea to go during the weekdays when it's less crowded.
Bassi Falls is generally a pet-friendly hike, and given that it isn't super long it can be a great place to get your dog outside.
Where and How to Hike Bassi Falls
To hike Bassi Falls, you can find parking near the Union Valley Reservoir that's off Ice House Road. The easiest way to get to Ice House Road is by driving on Highway 50.
The trailhead for the hike to Bassi Falls starts at the small parking lot off of Carmel Valley Road. It's pretty easy to find, and you'll know when you get there because there will be a sign that points the way onto the actual hiking trail. Once on this road, the trail is well-marked and it splits off into a few different trails that take you to various parts of the waterfalls.
The hike to the falls starts on a paved, level path that is about a mile long. You will cross two bridges and head upstream along the river before ascending to the falls themselves. Along this part of the hike, there are plenty of spots where you can stop for a break or have lunch if need be. The trail is well-marked so it's easy to find your way back as well. Once you reach the end of this section, there is a series of switchbacks that take you to the top of the falls. It may be steep in some parts so watch your step and make sure to bring plenty of water with you!
At the top of the falls, you will find a small shelter with benches to rest in. There are also great views from this vantage point. While hiking Bassi Falls, make sure to explore the different sections of this beautiful waterfall because it'll be worth your time! The hike to the top of Bassi Falls takes around three hours depending on how fast you go and the number of stops you make.
Hiking uphill can be steep in some areas, so you'll need to push yourself at times to continue moving forward. In the winter, you may need snowshoes and crampons because the trail can become icy when it's cold. We recommend making a few stops along the way because the scenery is just too beautiful to pass. You'll get some different perspectives on the falls as well as some views of the surrounding area.
A few of the best places to stop are at viewpoints number two and three. In these spots, you'll get a view of Bassi Falls from the top and below. If you're feeling adventurous, continue on to viewpoint number four where it's possible to stand right next to Bassi Falls!
Hazards of Bassi Falls
Although Bassi Falls is a safe hiking trail, there are some potential hazards to keep an eye out for. Along the trail, you'll see signs warning visitors about potential poison oak along the path. Keep your eyes peeled and be sure to avoid coming in contact with the plant. If someone does come in contact with the plant, there is an emergency call button along the trail should you need help from wildlife authorities. It's important to remember that this button should only be pressed if there is no other option!
There are also warning signs for bears that advise hikers not to leave food or items unattended, as these might attract a bear's attention and encourage them to come closer.  Note that in this part of the country, the bears you encounter will be Black Bears — not Grizzly Bears or Brown Bears.  Black Bears tend to be less of a threat to humans, but they can still be unpredictable if conditions are just right. You may also come across snakes on the trail, and California has venomous snakes. The best thing to do is just keep your distance and enjoy the hike! If you come in contact with a potentially dangerous animal, back off slowly and don't run. Animals don't like to be startled, and if you're close by, the animal might feel threatened or as though it's being chased.
And of course, since the hike may take several hours to complete, you need to make sure you packed accordingly. Bring enough water and hiking snacks for both yourself and any children hiking with you. Dress appropriately for the weather, and wear hiking shoes that provide excellent grip on both wet and dry surfaces.  As with any hike, err on the side of bringing a headlamp or flashlight (with extra batteries) in case the return section of the hike takes you longer than you expect, and you find yourself in low-light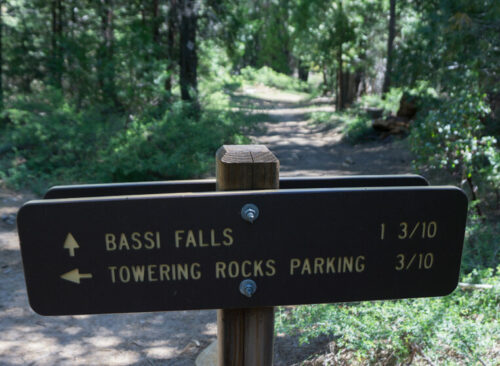 conditions.
You should not start any fires along the hike, regardless of where you are. This is fire country, as evidenced my major fires in the vicinity over the past 2 years. Bassi Falls is not a hike that encourages people to start campfires, cookouts, or do anything that would cause the foliage to catch fire. Make sure to throw out any garbage you have and avoid littering in the beautiful forest. Always be mindful of your surroundings and aware of where you are on the trail.
Where to Stay
There are plenty of hotels near Bassi Falls to stay at. Some of the most popular include Best Western Plus Placerville Inn, National 9 Inn, Westhaven Inn, The Historic American River Inn, Historic Cary House Hotel, Holiday Inn Express & Suites El Dorado Hills, and Days Inn.
Most of these hotels include breakfast, Wi-Fi, and a variety of amenities like pools, an on-site restaurant or bar, fitness centers, and more. Depending on what you're looking for, browse through the various hotels to find one that has everything you want. If you plan on hiking Bassi Falls or the nearby trails over the next few days, you should consider finding a hotel within walking distance. This would be a great way to spend even more time with your hiking friends and family.
You can also stay at one of the many campgrounds near Bassi Falls. There's the Yellow Jacket Campground, Smud Campground, Wench Creek Campground, Azalea Cove Campground, and Big Silver Group Campground. There are other campgrounds that are closer to the Union Valley Reservoir–Jones Fork Campground, Fashoda Campground, Sunset Union Valley Campground, Peninsula Campground, and Wolf Creek Campground.  Having been to making of the campgrounds in the area, they are definitely on the nicer end of the spectrum in terms of scenery and vibe.  Big Silver, Fashoda, and Yellow Jacket are probably our three favorites, but most are really good.  Don't hesitate to bring a tent and make a night of it.
If you plan on staying in the area for a while to explore several nearby hikes, you can stay at multiple campgrounds. There are many wonderful hikes near the Union Valley Reservoir. Bassi Falls is just one of them!