Looking for a new kayak to take out on the water this summer with your friends and family?  We tested the Intex Excursion 5, and it is a solid option for many types of paddlers. As the name suggests, the inflatable kayak is designed to fit up to five people and can hold up to 1,100 pounds. Let's discuss how the kayak performs to see if you should bring it out for your next group kayaking trip on the lake!
Performance of the Intex Excursion 5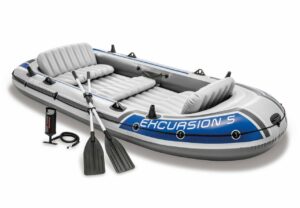 Without a doubt, you're going to have a lot of fun with this kayak. It's stable and tracks well, so you won't have to worry about tipping over as long as you're not on heavy waves. It may not be the fastest, but it's still a decent speed for an inflatable kayak. Of course, how fast you go depends on how much weight you have in the kayak.
The motor mount is a key feature as you can explore different areas without having to paddle the entire time. In fact, you might have difficulty getting around without using a motor. You should do well with either a trolling or electric motor. The kayak itself only weighs 55 lbs, which is unbelievable, but if you factor in the weight of the motor, passengers, and gear, you're looking at a significantly heavier load that might be too tiresome to paddle around, even with two people rowing.
It's not recommended to take the kayak out on a river or any other place with strong currents. The ideal setting will be on a calming lake where you can slowly paddle around or use the motor to safely get from one side to another — and even then, wear a lifejacket.
The Excursion 5 is pretty easy to inflate and deflate with the included air pump. However, just like with the best inflatable paddleboards, pumping any kayak will take quite a bit of effort and time — roughly around 20-30 minutes. This can be tiresome after a while, so you might want to get yourself an electric air pump instead.
Just be extra careful if you decide to go fishing as an accidental hook might cause a hole. But overall, for a kayak made out of heavy-duty vinyl, you should have a fun time out on the water for a nice and relaxing day with the family. If you plan on staying out for many hours, you should keep an eye on how inflated the kayak is as it'll slowly lose air over time. It comes with a repair kit that will be able to fix any leaks or punctures that are smaller than 5 cm.
Comfort and Design of the Intex Excursion 5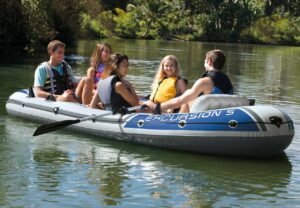 In terms of comfort, you'll be able to fit up to five people. Of course, this will depend on how the individuals' sizes and how much space is available after you've added any gear. Realistically, you might only be able to comfortably seat 3-4 adults.
The seats are adjustable, so you can move them around to accommodate passengers or to create more legroom. You can also remove the middle seat which is the perfect place to set a cooler (or you can leave it empty for more leg space). There are two inflatable seats with backrests for those who want a more luxurious trip — you might have a fight on your hands over them!
The design is good as it comes with the 3 chambers and Boston valves. These valves are the best ones for inflating your kayak as they prevent air from escaping. With some fishing rod holders, oar holders, a gear pouch, and grab handles, you should have everything you need to ride comfortably on the water. Once you deflate the kayak, you can easily pack it into the carrying bag and store it away for your next trip.
Where the Excursion 5 falls short is the short paddles. For a kayak this size, it would be better to have longer paddles that are easier to row with. The short ones that come with it are only good for kids or those who don't mind putting in some extra muscle. But this is a minor complaint as you can always purchase paddles separately. Another design flaw is that the kayak tends to slowly drift away when you're not paddling. This might be a problem if you're fishing, but you may want to outfit the kayak with a very light anchor which will keep it in place.
Speaking of fishing, the Excursion is stable enough to fish from, as long as the water is not moving rapidly.  For lakes or slow-moving rivers, it can be a fishable rig.  Just be sure that you have a good tackle box, because you won't want a hook to puncture the raft.  Consider fly fishing, which works surprising well with a raft like this.
Find the Excursion here on Amazon
Other Inflatable Kayaks to Consider
Intex Excursion 5 is by far one of the cheapest kayaks on the market that can fit up to five people. but if you're not happy with everything that comes in the set, there are some other options out there.
TAHE Beach LP3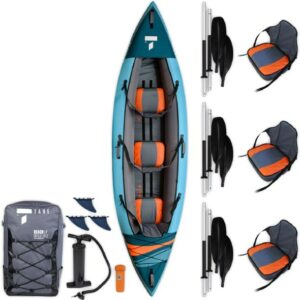 For those who are willing to spend more, you can get yourself the TAHE Beach LP3. This inflatable kayak will comfortably seat up to three people. It measures 12 feet and 6 inches long, 3.3 feet wide, and weighs 32 lbs. It has a maximum weight capacity of 507 pounds, which might be a little tricky if you want to seat three heavier individuals, not including the weight of your gear. LP3 will likely work best with two adults and one child.
Overall, the kayak has a hydrodynamic hull that makes paddling easy. There are three removable fins for directional stability, and you can also use the fin for shallow waters to help you travel with ease. You're able to quickly inflate the kayak in under 5 minutes, which is perfect if you just want to go for a quick ride. The seats are adjustable, removable, and ergonomic, so you're sure to have a comfortable journey. Paddles and a repair kit are also included.
Bote Zeppelin Aero Classic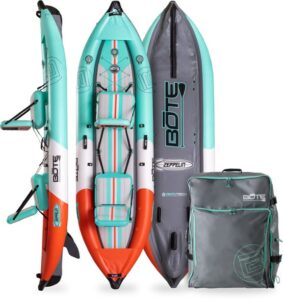 Another (costlier) alternative to the Excursion 5 is the Bote Zeppelin Aero Classic. It's an inflatable tandem sit-on-top kayak that can hold up to two people or 600 lbs. It measures 12 feet and 6 inches long, 3.2 feet wide, and weighs 50 lbs. It's slightly heavier than the LP3 but can hold more weight.
The kayak is made from PVC material that can withstand harder abrasions, so punctures are less likely to happen. There are also two inflatable, adjustable, and removable seats with backrests that are comfortable for long rides. The floor chamber is also removable, and there are drain holes at the bottom of the kayak to let the water out.
With a center fin and two side fins, this kayak is designed for speed and easy maneuvering. It offers incredible stability that makes you feel safe on the water, regardless if you are by yourself or with another person. The main drawback is that it doesn't come with paddles. You might have a tougher time getting around if you're riding solo, so make use of the extra seat!
Intex Excursion FAQs
How Durable is the kayak?
The Intex Excursion is moderately durable. For most people who need to be able to get on calm water, it is going to do well.  It is durable enough to fish from and have kids moving around in.  We would probably not take it down a rocky river, for that you need something that is quite a bit more expensive.
Should I wear a lifejacket in a kayak like this?
Yes, always.  You just never know when you have an accident, or get hit with a big wake from a passing boat that overtakes you.  We recommend a paddling-specific lifejacket, because they provide more range-of-motion for you to paddle and maneuver in.
How Best to Inflate the Intex Excursion?
We like to use an air compression, some of which are custom-made for inflatable rafts.  You need to be careful when inflating, because overinflating can cause a very loud and potentially harmful explosion, which will also ruin the raft.
Set the raft on a flat piece of group, completely spread out.  Then, go around the raft inflating each chamber to about 50% full.  Repeat, go around again, this time inflating to the recommended PSI.