Looking for another getaway? Fremont Winema National Forest offers plenty of opportunities for your favorite outdoor adventures. In this travel guide, we'll provide an overview of the park's best features, detail the best things to do here, and nearby places for lodging. Prepare to pack your bags for one of Oregon's favorite travel destinations.
About Fremont-Winema National Forest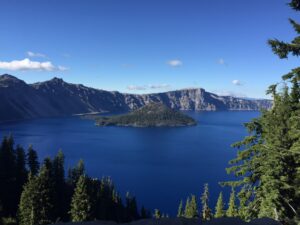 Fremont Winema National Forest is located in southern central Oregon and includes parts of Deschutes, Klamath, and Lake counties. The easiest way to get here is by car. There are three main roads that lead into the park: Highway 97, Highway 138, and Highway 140. The closest airport is in Redmond, Oregon.
It is about 4 hours straight south of Mt. Hood, another popular destination in Oregon.  While Mt. Hood juts out of the earth in a dramatic way, the Fremont-Winema area is not quite as extreme.  The highest peak in Fremont-Winema, Mt. Thielson, is about 2,000 feet lower than Hood is.
To enter the forest, you can either pay a $5 day pass or a $30 annual pass for access to all recreational sites in Washington and Oregon. Individuals can also opt to purchase a pass through the National Park Service if they're planning on visiting sites outside the two states. Annual passes for most through the NPS is $80. Military members, their families, and veterans can obtain a free pass, and seniors aged 62 and above can purchase a lifetime pass for $80 or $20 annually.
The forest is named after two Native American chiefs, Chief Winema and Chief Fremont, who were instrumental in treaty negotiations between the federal government and the Klamath Tribes. The forest was originally founded in 1908 as just Fremont National Forest, absorbed part of the Paulina National Forest in 1915, and combined with the Winema National Forest in 2002. It spans over 2.3 million acres and is one of the largest National Forests in Oregon. Home to a diverse range of ecosystems, visitors can see the southern tip of the Cascade Mountains and also visit the nearby Crater Lake National Park which is the deepest lake in the United States (1,949 feet!).
The Best Things to Do in Fremont-Winema
There's never going to be a shortage of fun activities to do at Fremont-Winema National Forest. For those who enjoy walking or hiking, there are 436 miles of scenic hiking trails to explore. Regardless of the trails you choose, you're bound to see some incredible views of the surrounding mountains, forests, and rivers. You can take one of the shorter or easier trails or plan a long backpacking trip. Of course, biking is always an option too as many of the trails are bike-accessible.
The Pacific Crest Trail, for example, runs through the park and is a popular choice because it runs from Mexico to Canada. It's unbelievably long, spanning 2,650 miles as it passes through California, Oregon, and Washington. It'll take you several months to complete, but just imagine the bragging rights you'll have when you finish it! Not to mention the remarkable adventure that awaits.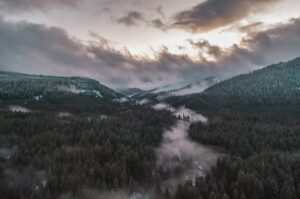 If you enjoy camping, Fremont-Winema National Forest offers plenty of opportunities for that as well. There are over dozens of developed campgrounds and countless dispersed camping sites. You can find various campsites that'll appeal to your needs, whether you're looking for something more developed with amenities like running water, flush toilets, and hot showers, or something more primitive.
In addition, you'll find several lakes and rivers where you can go fishing, swimming, canoeing, kayaking, and rafting. Some of the more popular spots include Klamath Lake and the Deschutes River. These bodies of water offer stunning views and a chance to catch some of the local fish, including trout, salmon, and bass. They are also the perfect spots to relax and enjoy the scenery.
The park is home to a diverse range of plant and animal life. Some of the more common animals you might see include deer, elk, bighorn sheep, and sometimes bears. Make sure you stay aware of your surroundings and take precautions when necessary, such as remembering not to make loud and sudden noises around bears to avoid surprising them. Most of the animals won't bother you as long as you don't bother them. And whatever you do, do not feed any animals. Clean up after yourself and keep food out of reach when camping.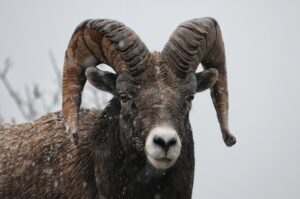 For something a little more wholesome, you can enjoy a family and friends lunch at one of the many scenic picnic areas. There are hundreds to choose from, each with their own unique views.
With so much to do here, you could easily spend weeks exploring everything that Fremont-Winema National Forest has to offer. And trust us, you won't be disappointed.
Where to Stay
Aside from one of the many campgrounds, there are also many lodges and cabins you can rent. Some of the most popular campgrounds include Mazama Village Campground, Lost Creek Campground, and Sunset Bay State Park. If you're looking for something a little more luxurious, try The Springs at Crater Lake. This lodge is the perfect place to stay if you want to stay close to the forest but still have some peace and quiet.
If you want to pack your stuff in and get away from people, you can hike-in and camp nearly anywhere in the area, as long as you find a suitable spot.  Camping is allowed on public Forest Service or BLM land as long as it doesn't interfere with other land uses.  This is a great place to bring a basic tent, or, if you can find a turn-in off one of the many gravel roads, throw up a roof top tent.
If you're looking for something modern, you can stay at one of the many hotels, motels, or bed and breakfasts in the area. Just make sure you book your accommodations early as they fill up quickly, especially during the peak season which is generally June, July, and August. Some of the best cities and towns with hotels and other accommodations nearby include Klamath Falls, Lakeview, Bend, and Medford.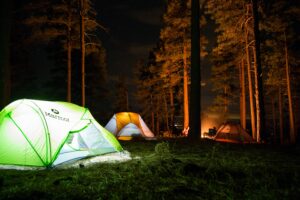 All of these offer a wide range of lodging options with amenities such as restaurants, shopping, entertainment, bars, and nightlife activities. You'll practically always have a stable Wi-Fi connection, hot showers, and a comfortable bed to sleep in every night. You can also find many RV parks and campgrounds in these cities if you're looking for something more affordable or want to bring your own RV. With so many options, it's best to set a budget so you can find something that works for you.