When it comes to tents, there are a lot of brands that are made overseas, but what about tents that are made in the USA?  A common question we get from avid campers is "which tent brands are American-made?
There are some great brands out there that make their tents right here in the United States. In this blog, we'll take a look at some of the best American-made tent brands. We'll discuss what makes these options outstanding and why you should consider getting one for your next camping trip.
Wenzel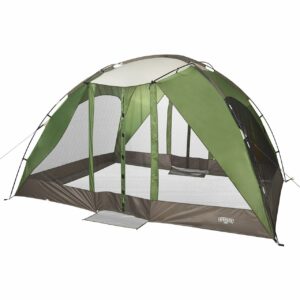 Wenzel is one of the many outdoor brand families under Exxel Outdoors. Wenzel has been making tents since 1887, and their headquarters are located in Colorado on the foothills of the Front Range near Boulder. The company has a long history of producing high-quality products and they continue to do so today. Wenzel produces a wide variety of tents, from small backpacking to large family camping tents. Wenzel uses some of the finest materials to ensure their tents can withstand the harshest environments, ideal for any level of camping.
Their team of outdoor enthusiasts are experts in their field, and they put a lot of time and energy into making sure all their gear is top-notch. They have access to many trails, lakes, streams, and snow-capped mountains, which allows them to put their tents through vigorous and accurate testing.
The price tags are very affordable when you buy Wenzel, starting as low as $60. One of their current most expensive tents is $280, which is still cheaper than other high-end options on the market.  The Jack Pine, a great all-around 4-person tent, is a good example of Wenzel's work and value.  In addition to tents, Wenzel also offers sleeping bags and pads, airbeds, screen houses, and other camping gear to help you get the most out of your trip.
What we like about Wenzel tents:
Great price point, especially for American-made gear
Rugged
Good selection of sizes
Hyperlite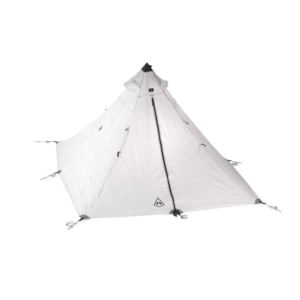 If you have studied backcountry gear at all, you have probably heard of Hyperlite.
Hyperlite, more specifically Hyperlite Mountain Gear, is a company that designs and manufactures ultralight and waterproof gear for backpacking and thru-hiking. Founded in 2010, their goal is to provide campers with the lightest and strongest gear available, without compromising on quality or durability. Hyperlite believes that campers should be able to enjoy the wilderness without being weighed down by their gear, and they achieve this with their innovative designs.
All of Hyperlite's products are made in America, specifically in Biddeford, Maine, and they use some of the highest-quality materials and construction techniques to ensure their gear can withstand the most extreme conditions. This is the one thing that sets Hyperlite apart from other brands. Their use of USA-sourced, high-tech, space age materials provides more stability and safety at a fraction of the weight. This means you can spend more time living in the moment without worrying about hauling heavy equipment or sacrificing comfort and strength.
You can use their tents on the trail or in the cold mountains as a winter tent, and they'll never let you down. Overall, the company aims to provide you with the best possible experience with the least amount of gear. Their tents start at $150 and go up as high as $890. We believe their high-end tents are worth the investment because you can save a significant amount of energy, time, and even money in the long run. The High Peak for example, a great 2-person tent, weighs just over 6 pounds!  You won't need to have a big pack to carry the tent in, and won't lose energy while hiking with this thing on your back all day long. Hyperlite also offers accessories for your tent that you might find useful, such as a skate kit, carbon fiber poles, and pole straps.
The Hyperlite design is pretty technically advanced, and might to a bit too advanced for some who just want a regular old tent.  But for people who will need the best possible strength-to-weight ratio, Hyperlite can be a great investment.
What we like about Hyperlite tents:
Technically advanced.  Very good strength-to-weight ratio
Lightweight, so great for thru-hiking and mountain backpacking
Warmlite
Warmlite is another American company that has been making camping gear since 1957. Their headquarters are located in Wellington, Colorado, and they have a long-standing reputation for producing quality and durable gear. One of the company's biggest accomplishments is the creation of the down-filled air mattress (DAM), which started as a prototype back in the 1950's. You've probably seen these mattresses everywhere, but the idea was originally created by Warmlite.
In addition to their inflatable mattresses, Warmlite also produces a variety of sleeping bags, camping mats, tents, and other camping gear. When it comes to their tents, they offer everything from 2-person to 5-person tents, 2-person to 3-person climbers, to ship tents and various accessories. One of the most expensive tents is the 3-person climber which costs $1,400. But if you have the budget for it, you'll be in possession of one of the best 4-season tents that comfortably sleeps three people and can withstand powerful winds up to 160 miles per hour.
This is just one of the many options. Most of their selection will be far more expensive than your average brand as they're priced around the $1,000 mark. But just like the other American brands, Warmlite truly believes in the quality of their products, so they continue producing nothing but the strongest of tents that will last a lifetime.
What we like about Warmlite tents:
Established company – has stood the test of time
High quality inside and out (but you are going to pay for it)
Yama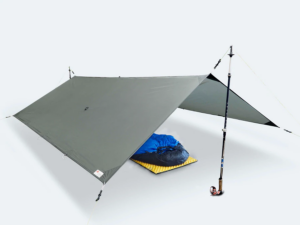 Although the name is derived from the Japanese word and character "mountain," Yama, or Yama Mountain Gear, is actually located in South River Mill in Virginia, founded in 2006. The previous name was Alpinlite, but it was changed in order to better reflect their expanded product line. The founder's name is Gen Shimizu, and he is an extremely passionate outdoors enthusiast who designed his gear based on his trail experiences. He's fortunate enough to have a national forest and a surrounding landscape of wilderness to test and use his products.
One main differentiator with Yama is that their product lines aim to be environmentally friendly. You'll find everything from simple tarps, net tents, shelters, cirriforms, and other camping gear and accessories including stakes and poles. Yama is widely known to build their gear from a historic lumber mill that's found on the banks of the Blackfoot River. The tents are reasonably priced as you can find net tents around the $100 mark, tarps between $120 to $315, and cirriforms from $195 to $395. If you're looking for greener products that are lightweight, durable, and reliable, Yama is an excellent brand to consider. But if you've never tried any of their tents before, the first one you'll want to get your hands on is the 2P Swiftline, which is one of their top sellers.
What we like about Yama tents:
Simple designs
Easy to carry and setup
Nice tarps when a full tent is not needed