If you're looking for an off-the-beaten path, natural destination, Salton Sea is a great option to consider. This lake was formed in the 1900's by an irrigation accident with the Colorado River. It's now a tourist attraction and provides a great opportunity to explore its beaches and coves.
The Salton Sea is not far from the Los Angeles basin (just 2 hours from the Ontario airport) and is in the same general region as Joshua Tree National Park, so there are a few ways to weave this in to a day or weekend.  We love going in spring, when the desert is blooming and Salton provides a particularly scenic hike.
Many people come here for bird watching and several other outdoor activities as well! Be sure to pack plenty of food, water, sunscreen, and insect repellent before heading out – it's extra hot out there!
History of the Salton Sea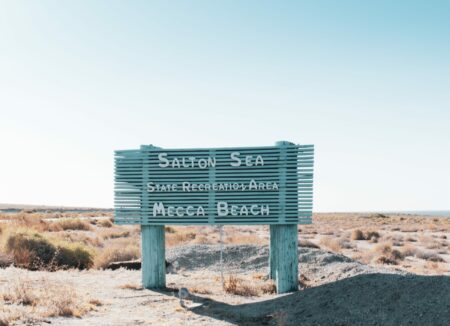 The Salton Sea is located in Southern California. It used to be part of the Colorado River, but it's not considered a natural lake since it was created by man-made flooding. One of the largest lakes in California, it is about 35 miles long and is located in the desert with some of the highest salinity levels found anywhere on Earth. It has a surface area of up to 360 square miles (930 km²)
Salton Sea was created due to an accident during irrigation in 1905. When it was part of the Colorado river, flooding caused by excessive rainwater broke through its southern end. It then dried up because all the water was diverted into Imperial Valley's desert basin. The area became dry enough for farming after soil was deposited by the flooding, and this is where most of the farms were located.
The area around Salton Sea is home to many different types of wildlife. In addition to birds and fish, there are also turtles, coyotes, snakes, muskrats, and bobcats. Unfortunately, Salton Sea is rapidly shrinking due to evaporation. It used to be twice the size of Lake Tahoe, but now it's less than half that size. This means that some wildlife will have nowhere to live and may die out as a result of this change.
Salton Sea is a reminder of the dangers that climate change can cause – it's an important and vital stop for nesting birds on the Pacific Flyway, for example, that may not be accessible for much longer. The sea-level rise and increased temperatures are causing significant problems for the ecosystems living in this region of California. In the case of this body of water, the water levels are also dropping drastically because there's not enough inflow from nearby rivers and streams to make up for drainage, evaporation, and continual seepage into underlying aquifers. Local and state agencies are looking into strategies to help save the Salton Sea.
When to Visit Salton Sea and Why You Shouldn't Swim There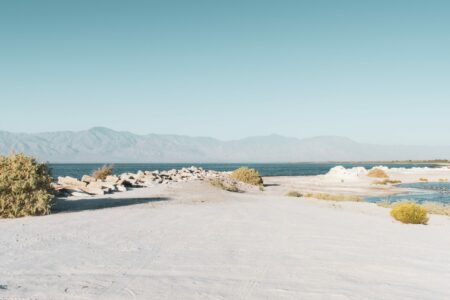 If you're planning a visit to Salton Sea, you'll want to go during the summer months. However, this season is the most popular for traveling to Salton Sea, while the other months can be pretty empty. If you prefer traveling and exploring with new faces around you, go during summer! Otherwise, you can travel during the other seasons.
In some parts of the lake, the water temperature can reach a staggering 104 degrees Fahrenheit (40°C) in the summer months, which is pretty warm considering that it's saltwater.
However, keep in mind that it's not advisable to swim in Salton Sea. Very few people swim in the lake because it's quite dirty and it smells bad. The California State Water Resources Control Board even urges visitors to avoid swimming in the water because the lake has had a toxic algae outbreak. This could be extremely dangerous for your health and harmful to your skin and nervous system. Although it can be tempting, it's safer to avoid swimming completely.
Visiting Salton Sea during the cooler or colder months could be a wonderful experience, too. It'll be a great time to go fishing and bird watching. The stunning views of the area will definitely make your trip memorable.
If you're going bird watching, cross your fingers to find some eagles and osprey. There are also many types of fish that can be caught in the Salton Sea including catfish, tilapia, carp, and more. These are all very delicious and make for a perfect meal!
What to Do at Salton Sea
The Salton Sea is an unforgettable destination in California that offers endless opportunities for people of all ages and interests! Whether it's boating on its saline waters or enjoying its wildlife and rich shores, the lake has you covered.
There are countless activities to do at Salton Sea, with some more relaxing than others. If you're looking to do something a little less strenuous, visit one of the many bird-watching spots, hike the smaller trails, or go for a bike ride. If you're looking to do something more active, hike one of the more challenging trails or visit one of the many fishing depots and see if you can catch some dinner.
You can also take a boat tour of the area with one of the tour operators or just enjoy the scenery from your own boat. You can also rent or bring your own kayak, paddleboard, or surfboard to enjoy the water. Pedaling through the waters of the Salton Sea is a great way to explore the area and enjoy its aquatic life. Even though it may not be the cleanest, the water is still enjoyable to ride on. Do your best to avoid falling into the water!
Salton Sea also has a state park that offers many opportunities for fun in the sun like camping. You can set up your camp at one of the many campgrounds, including Red Hill Marina Campground, Bombay Beach Campground, Salt Creek Beach Campground, Corvina Beach Campground, and Salton Sea Campground. If you're staying for a while, why not arrange for multiple camping days around the beautiful lake?
Nearby areas worth a visit are Joshua Tree National Park, and Anza Borrego State Park, both of which can give you an incredible California desert experience.  Just up the road is Palm Desert, and nearby the home of the popular Coachella Music Festival.
One important note for whatever you do — the Salton Sea area doesn't have much shade, and it gets lots of sun.  The chances are you will be in the hot sun all day long.  Be sure to have sunscreen, and this is a good place to wear a hiking hat and perhaps cover up with a lightweight long-sleeved shirt.
Popular Hikes at Salton Sea
Hiking is a great activity at the Salton Sea, but take a few precautions.
It will probably be hot, without a lot of shade.  Be sure you wear sunscreen.
The heat will make light clothing and footwear preferable.  We like the lightweight North Face hiking shoes for situations like these.
Stay hydrated.  Be sure you have a water bottle along.  Dehydration can sneak up on you.
One of the most popular hikes at Salton Sea is the Bat Caves Buttes. It's a 3-mile looped hike that takes you through some caves and to an incredible view of Salton Sea. The hike is slightly difficult, but it's not too challenging! Anyone with some hiking experience should be able to finish the hike with ease.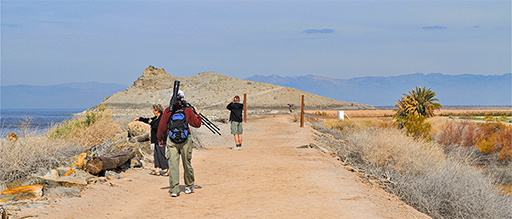 Throughout the hike, you'll get great views of nature and the lake while walking through the sandy trail. There's not much shade, so bring plenty of water and wear a hat if the sun's out. You'll find some benches to relax on and take in the view near the top of the cave. It's the perfect spot to take some pictures and set up a picnic! Feel free to bring your dogs on the hike, too. Just be sure to keep them on a leash.
The Bat Caves Buttes hike is definitely one of the most popular hikes around here, but there are other hikes to explore too. For example, you can take the Cactus Loop Trail at Salton Sea Beach Campground, which is a short and easy loop. You'll be surrounded by desert cactus and stunning views of the mountains on one side, or you can head to Salton Sea Beach Campground to explore the beach and try out some fishing.
If you want an easy hike with a spot for a picnic, the Rock Hill Trail is a nice, relatively flat, 2-mile hike that will provide a bit of activity without requiring half your day to do.  A picnic area near the apex of the trail creates a great spot for a pack-in, pack-out lunch walk.
Be careful for rattlesnakes when walking in this area.  You don't need to be paranoid, and you probably won't see one.  But keep your eyes on the trail, and be particularly careful if you are leaving the trail and wandering into rocky areas.  It is never a bad idea to wear strong-soled shoes or boots, and longer socks.
Where to Stay
As mentioned, there are several campgrounds for you to stay at, such as the Red Hill Marina Campground, Bombay Beach Campground, Salt Creek Beach Campground, and more. If you're not wanting to rough it, you can stay at a hotel. Many hotels are located near the lake, ranging from budget-friendly to luxurious resorts and everything in between.
Some of the most popular hotels and resorts that are near Salton Sea include Homewood Suites by Bilton La Quinta, La Quinta Resort & Club, Fantasy Springs Resort Casino, Embassy Suites by Hilton La Quinta, Quality Inn & Suites, Hyatt Regency Indian Wells Report, and Best Western Date Tree Hotel. Since you won't be swimming at Salton Sea, but don't want to miss out on the activity, you may just want to opt for the swimming pools at these resorts.
When will you be planning a trip to explore Salton Sea for yourself?