If you're looking for an incredible outdoor adventure, look no further than the Mt. Hood Wilderness area. This vast and rugged National Forest offers something for everyone, from experienced hikers to nature lovers just looking to get away from it all. In this review, we'll take a closer look at why you should visit Mt. Hood and the best activities to do there. We'll also go over some things you need to know and various camping and lodging options. Get ready to pack your bags for an unforgettable experience!
What's Notable About Mt. Hood Wilderness?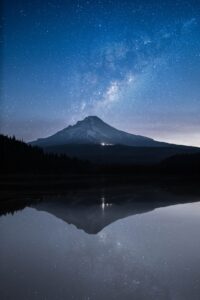 What makes Mt. Hood Wilderness special is that it's one of the largest wilderness areas in the United States. It covers over 64,000 acres of land and includes several mountain peaks, including Mt. Hood – Oregon's tallest mountain at over 11,000 feet. This area is known for its incredible scenery, including dense forests, rushing rivers, and pristine alpine lakes. It's home to an abundance of wildlife, including elk, deer, and bears. There's also the Oregon Range, which offers some of the best hiking in the state, if not the country.
Mt. Hood is part of the incredible Cascade mountain range, which stretches on a narrow North-to-South band starting in lower British Columbia and stretching down past Mt. Shasta in California.  It includes some of our favorite places — Mt. Baker, Lake 22, Olympic National Park, and Bend, to name a few.
How Can You Reach the Mt. Hood Wilderness?
Mt. Hood Wilderness is located in the northern part of Oregon, just south of Portland. There are plenty of nearby towns with amenities such as restaurants, gas stations, and stores. Here are some options to get there from Portland:
Go on an Organized Tour
There are travel tours that will take you to the wilderness area, and many of these include camping and hiking trips. This method is best for those who don't want to spend too much time planning.
Take Public Transportation
You can catch the Mount Hood Express bus from Portland. It's open six days a week, but it makes dozens of stops as it turns into Timberline Lodge. You can expect to arrive at Mt. Hood in about three hours.
By Car
If you'd prefer to drive, you can take Highway 26 from Portland, which is accessible from Highway 224 or Exit 14 on I-84. The drive will take over two hours depending on your speed and traffic, but you'll see many fantastic views of the mountain. There are plenty of places to stop along the way for food or to take in the scenery.  People often like to make a multi-day trip of exploring Oregon.  Going from north to south, you will hit Portland, Mt. Hood, perhaps jut over to some coastline, head back inland to the beautiful bend area, and then continue south to the Fremont-Winema and Crater Lake areas.
Transfer Service
You can take shuttle transfer services that will get you directly to Mt. Hood. There are even some limo services that include tours that bring you around the wilderness. You will need a reservation, however.
Best Activities in the Mt. Hood Wilderness Area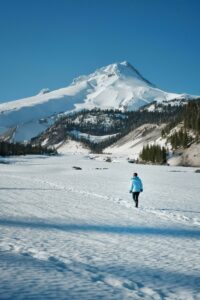 So, what can you do in the Mt. Hood Wilderness area?
Go on a Hike
If you really want to challenge yourself, you can try climbing the highest summit in Oregon, which is higher than 11,240 feet. At the top, you'll be rewarded with stunning views of the surrounding landscape.
But if summiting isn't your thing, there are plenty of other excellent hikes to choose from, ranging from easy to hard difficulty and distance. There are many other hikes that have lower peaks.  In fact, there are at least 30 easier routes on Mount Hood — it is a big mountain!  If you are worried about getting in over your skill level or need to avoid a hiking injury, you will have plenty of easier hikes to do.
Some other popular spots that offer stunning views of Mt. Hood include Trillium Lake, Buzzard Point, Hood Ornament, Marine Drive, and Jonsrud Viewpoint. All of these locations are easily accessible and make for exciting day trips with friends and family. If you're looking to spend a few nights in the wilderness, there are also plenty of great camping spots to choose from, both primitive and developed. We'll talk about some of the best camping and lodging spots later.
See the Area From Above
For those who are more daring, you could go skydiving! You'll get a bird's eye view 13,000 feet in the air as you free fall your way down. Believe us when we say you'll get breathtaking views that very few will ever get to experience. If that's too intense for you, you can take a hot air balloon ride in the early morning. These rides are typically short and only last about 15-minutes.
Take Part in Other Recreational Activities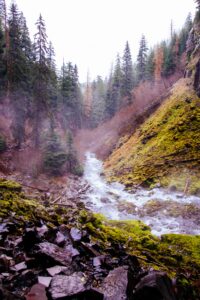 For more recreational activities, there's everything from biking, fishing, horseback riding, bird watching, kayaking or rafting, and much more! There are plenty of bike parks and routes that are great for mountain biking. They vary in difficulty, so there's something for everyone. Some of the trails can be pretty advanced, so if you are just starting out mountain biking, be sure to stick to the ones marked as easier.
Skiing and snowboarding on the Mt. Hood slopes can be tons of fun in winter — in fact, it is some of the best skiing in the Pacific Northwest.
For those who are willing to spend a little money for some quality fun, you can shoot arrows at a range, play a round of golf, race your friends on some go-karts, zipline and bungee jumping, or try wine tasting. Looking for some peaceful time with your friends and family? Hang out at one of the parks! They're scattered all throughout the area and have areas for wholesome activities like picnicking and bird watching.
The kids may also enjoy Wippersnappers in Sandy, which has a trampoline room, tunnel slides, and other entertainment equipment. North Clackamas Aquatic Park has the largest wave pool in Oregon; Splat Action Paintball is also available for those who want to experience 47 acres of paintball war, or you can plan a trip to Marquam Hill Ranch to play the alpacas.
No matter what you like to do outdoors, we can promise you that you'll find something in the Mt. Hood Wilderness area. Make sure to keep your group's interests in mind as there are countless activities to participate in. Plan to stay for at least a few nights so you can get around to everything on your to-do list.
Where to Stay
Camp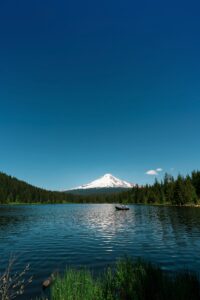 If you truly want to immerse yourself outdoors, what better way than to camp? There are plenty of wonderful camping spots to choose from in the Mt. Hood area, both primitive and developed as we mentioned earlier. If you're looking for a more developed camping spot, you can try one of the many RV parks or campgrounds that offer amenities like bathrooms, showers, and electrical hookups.
Some of the most popular campgrounds to consider include Tollgate Campground, Nottingham Campground, Kinnikinnick Campground, Gone Creek Campground, and Roaring River Campground. These campgrounds as well as many others offer great locations that are close to many of the best trails and activities in the area. They're surrounded by beautiful scenery and offer a terrific way to relax after a long day of exploring.  Some of the roads leading to these sites are pretty primitive, so they can be more conducive to tent or roof top tent camping versus RV'ing.
If you are doing the hike-in camp method, carrying a tent and not needing to have your vehicle nearby, the Timberline Trail is a 40-mile hike with overnight camping along the way.  You just need to have a permit if you plan to overnight it.  The trail is beautiful and gives you a good taste of the Hood area, although it can be quite popular during peak times.
Hotels and Motels
If you're not the camping type, there are plenty of other great lodging options to choose from. You can find hotels and motels in the nearby towns of Sandy, Welches, Rhododendron, and Government Camp. There are also many great vacation rentals available if you're looking for something a little more private or luxurious. We recommend booking in advance to find the perfect accommodation.
No matter where you choose to stay, we can promise you that you'll have a great time in the area. There's something for everyone to enjoy and you're sure to create some great memories that will last a lifetime.
When to Visit Mt. Hood
Like any mountain region, the Mt. Hood area can be unpredictable in terms of weather.  Precip down below can easily turn in to a snow storm on the mountain nearly any time of year.  It is a good place to have a rainproof windbreaker stowed in your backpack, the weather can change a couple times over the course of a hike.
In winter, you are obviously going to get wintery conditions, which is why there is a famed ski resort on Mt. Hood.
June through September are going to be the most reliably warm months, with highs many days in the 70s.  Lows, even in the summer, can routinely dip down into the 40s, so be sure to pack some thermal underwear if you are camping, to account for the temperature swings.
The shoulder months of October, November, April, and May can throw a lot of different weather at you.  If you are venturing to Hood at that time, just check the roads and the forecast before you go.  You might find incredible hiking weather, but you may also encounter some snow or mud.