Neff's Canyon in Utah is a wonderful option if you're looking for an exciting hike, especially if your dog likes to go on trips with you. Here are some things you need to know about visiting this destination that is just a short drive from Salt Lake City.
The Basics of Neff's Canyon
Neff's Canyon trails are found in Mounthaven, Utah, which is just a 34 minute drive from the center of Salt Lake City. It's located southeast of the state capital and directly south of Mill Creek Canyon, running at the base of Mt Olympus. The hiking area's exact address if you want to enter it into your phone or GPS is 4326 White Way, Salt Lake City, UT.
The canyon trails are near Neff's Cave, which is one of the deepest caves in the country, and was named a National Natural Landmark in 1977.  If you are in to caving, then exploring Neff's Cave if a can't miss if you are in the area.
Other things you should know before your trip:
This is a dog-friendly hike, one of the few in the area, but all dogs must remain on their leash.
Cell reception is notoriously bad on the trails.  You should assume your phone won't help you.
It's highly recommended that you bring an offline or printed map due to the poor cell reception, but the trails can also be poorly marked.
For most, parking is free.

If you cross into Millcreek Canyon, it is $3 per car.
How Challenging is Neff's Canyon?
Neff's Canyon has two trails to choose from: Neff's Canyon Trail and Neff's Canyon Loop.  One is challenging, one is easier.  Choose the on that suits your hiking skills.
Neff's Canyon Trail
Neff's Canyon Trail is about a 7 to 7.5 mile out and back trail. It is rated as difficult and has an elevation gain of 3,559 ft. Hikers have commented that it is a non-stop climb once you get started on your trip up, which definitely can make this a challenging trip. The last mile in particular is extremely steep. The trail features a creek crossing and several rocky spots.  Take it easy, and be sure you have good hiking boots to ensure good footing and no injuries!
The highlights of the trail, in our opinion, are between the 1.5 and 3 mile markers.  You will pass over a serene stream, and then into an open meadow with great views.  Even if you don't go all the way, at least make it to the wide open meadow.  You will know when you are there.
This hike also has a campsite if you'd like to stay overnight. And while this 7+ mile trail can feel daunting, you can always turn around, as many do. Many opt to go about 2 miles in before heading back to their car.
Neff's Canyon Loop
Neff's Canyon Loop is a more family friendly hike in the area. Listed as kid and dog friendly, it's a 1.3 mile hike that's popular with visitors and locals. Although it is a much easier hike than the trail, you still need to keep your map open at all times – navigation is difficult even on this short trip and it's very easy to wander off the trail. The elevation gain is 456 ft.
What Will You See at Neff's Canyon?
No matter which hike you decide to take, you'll be greeted with several beautiful sights including
A river crossing
Sights of the surrounding mountains and valleys
Wildflowers
Trees
Wildlife
Small waterfalls
Meadows
As with all hikes, it's important to be careful during your hike due to wildlife! There are bull moose which should always be enjoyed at a good distance, and snakes, including rattlesnakes, are a common sight as well. They can be hiding in tall grass and be difficult to spot.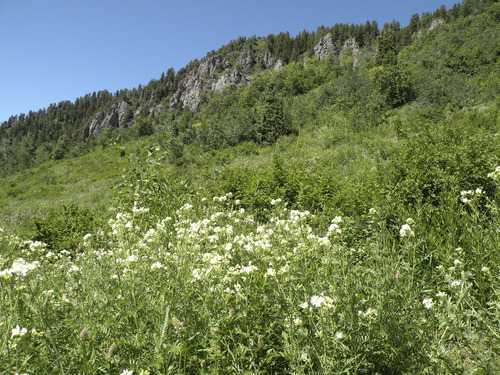 One thing to note about these trails: They are not the best maintained. Some parts will be overgrown or have missing markers. A few parts will look like the trail, but won't be. Always have a map of the area on hand.
When is the Best Time of Year to Hike Neff's Canyon?
Neff's Canyon is open year round, and what you'd like to do will impact when you should visit!
Winter
Both Neff's Canyon Trail and Loop are opened to cross-country skiers. The trail is also available to snowshoers. It's quite a popular destination for those who want to adventure in the snow.
Spring Through Fall
If you don't particularly want to head out in the snow, any of the warmer seasons will do the trick! Most hikers recommend spring or fall over summer simply due to the heat, though. It's also more likely you'll see rattlesnakes basking on the trail during the summer months.
What Time Should You Visit The Trails?
Although the other trails in the area tend to be more frequently visited than this Utah landmark, it is still a very popular destination. Some have reported the parking lot being nearly full at 8 am – the trailhead is open to visitors at 6 am.
If you opt for the longer hike of the two, getting there very early is highly recommended. It can take a while to complete this trip. Many visitors don't do the full hike, either, and turn around at about the 2 mile mark. You'll see fewer and fewer people the further you go in.
For the shorter hike, you can absolutely get there later in the day. There are no official open or close times for these trails, but the trailhead is closed between 10 pm to 6 am.
What Gear Should You Bring to Neff's Canyon?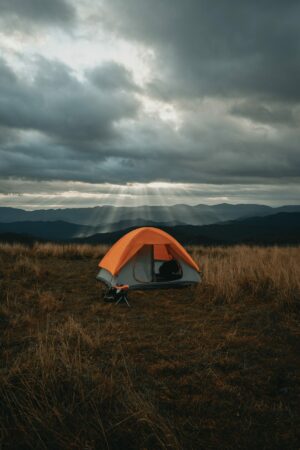 As with any hike, you need to bring the appropriate gear. Some things you should pack include
Sunscreen

There are plenty of shaded spots, but if you're out in the warmer months, you'll easily be directly under the sun's rays for a good portion of your trip.

Water

It can get very hot on this trail!

Snacks
Good hiking shoes or boots
Snowshoes or skis for the winter
Camera
Backpack
Offline or printed map of the area
Insect repellent
What Does the Trailhead Offer?
The trailhead offers very little in the way of amenities. There are no restrooms. There is a camping spot available on the trail, but the only thing at the trailhead worth noting is the parking lot.
What's Near Neff's Canyon? Where Can You Stay Overnight?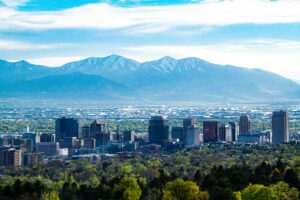 The 7+ mile Neff's Canyon Trail does offer camping, but if you're looking to head over in the morning and need a place to stay nearby, there are plenty of spots to check into.
Salt Lake City is the most obvious answer if you want a nearby hotel, but you may be able to find something closer, especially if you're up for an Airbnb or similar. If you'd like to stay at a campground, there are several within a 10 mile radius including
Redman Campground
Spruces Campground
Jordan Pines Campground
Albion Basin Campground
Camp Tracy
Mountain Shadows RV Park
Some of these listed campgrounds are near the Cottonwood Canyons, which do not allow dogs, so make sure to check the rules for each park before visiting with your pup.
What You Need to Know about Neff's Canyon Cave
As we talked about previously, Neff's Canyon Cave is nearby, on the north side of Mount Olympus. The 15th deepest cave in the United States, it is believed to go down to 1,163 feet. Made up of limestone and shale, it is a hard cave to explore. It is often closed to visitors due to safety hazards and access is restricted.
Visiting Neff's Canyon is a great opportunity to get out of the city and explore the wonderful wilderness that Utah has to offer both locals and visitors. Deciding which trail is right for you is an excellent place to begin. Which one will you be starting on?