Searching for the best camping pillows out there? We don't blame you. A good camping pillow can make the difference between mediocre nights of sleep and good, blissful rest that gets you ready for the next day of adventuring.
Camping pillows come in all shapes and sizes, and are made for many different purposes. Canoe camping is very different than car camping, for example, and they call for different gear, including pillows. And while we call them "camping" pillows, they can be really useful for any activity that just calls for a smaller, compact pillow that travels easily and takes up little space — like a motorcycle trip.  Fortunately, you can find pillows suitable for all types of camping as well as other, similar activities.
The good news is that camping gear makers have realized that people want their camping pillow to be more than an afterthought, and they have responded accordingly. Today's camping pillows are way better than those mini-pillows we used to attempt (often unsuccessfully) to carry with us 20 years ago.
Best Camping Pillows for 2023
We examined the best camping pillows for the year, and came up with a few excellent ones.  Here are our favorites:
Nemo Fillo Pillow
The best way to describe the Nemo Fillo pillow? Basic. But we are in no way suggesting it in a negative way. If you are looking for a good, basic, inflatable pillow, the Fillo just may fit the bill.
It packs into a small package, about the size of a potato, but weighs 9 ounces in your pack. 9 ounces doesn't sound like much, but it is actually the heaviest pillow in our lineup. The Fillo has microsuede on it to give you a bit more comfortable sensation than sleeping on a side of inflated plastic. Its sleeping surface is an impressive 11″ x 17″ when fully inflated.
The Fillo has a good track record of durability, and is relatively easy to inflate with just a few good puffs.  And Nemo is a maker we really like, for their quality and simplicity.  In fact, they make one of the best 2-person tents that we tested.
Inflated Size: 11" x 27" x 4″
Weight: 9 ounces
Exped Mega Pillow
With "Mega" in its name, this pillow better deliver some size. It doesn't disappoint. A sleeping surface of 21 x 12 inches is what you get, and it only weighs about 6.5 ounces, which is a combination
that is impressive. Made by Exped, who seems to have mastered how to make sleeping on the ground more comfortable. We are also big fans of the Exped Megamat Duo as a camping mat.
The Exped Mega comes in two colors, and is a combination of down-filled and inflatable. Without inflating, there is already a nice surface that provides some excellent head comfort. Add the inflatability, and you increase the level of support and can get the firmness to exactly where you want it to be.
The biggest selling point, though, is the surface area. If you are someone who really likes to hug your pillow and doesn't do well with a small pillow, this might be the one for you. It is big for a camping pillow, and easily the largest sleeping surface on our lineup. Despite its size, it stows away into a small size when not in use.
Inflated Size: 12" x 21" x 4.7″
Weight: 6.5 ounces
REI Camp Dreamer (Regular Size)
The REI Camp Dreamer pillow is excellent for those who do not need a substantial pillow surface and value the ability for the pillow to self-inflate. It is made by REI, a company who knows a thing or
two about camping.
The Camp Dreamer comes in two sizes, but the one we reviewed and like is the Regular-sized version. It gives you a slim profile and small package when packed away. Weighing-in at just over 6 ounces, it won't add much bulk to your pack.
Self-inflation is a nice feature, and we like that the stuff sack is attached to the pillow itself so you won't lose it.  This is a great choice for canoers or backpackers who need to economize everything, but for those who like sleeping on a substantial, fluffy pillow, it might feel a little spartan.
Inflated Size: 9" x 14" x 2"
Weight: 6.1 ounces
Trekology Ultralight
The Trekology Ultralight pillow is our value-pick, well-suited for camping and sleeping in the backcountry. While we have not had a chance to test its durability the way we have the others above, it appears to be a solid pillow with many good reviews from users.
This is the lightest pillow of the bunch, weighing-in at 3.5 ounces. The material might not have the same comfortable combination of down and inflatability as the others, but for someone who is a light user of camping pillows, this could be a way to save some money.
The sleeping surface is 12″ x 16″, somewhere in the middle of the range of the others. It has a nice contour, like a crescent, in case that is a shape that suits you. It is only available from Amazon, however, so you won't be able to find it in-store if you prefer local options.
Inflated Size: 12" x 16" x 4"
Weight: 3.5 ounces
Alps Versa Pillow
Let's say that weight is everything for you. You need a pillow that will be as light as possible so your all-important pack can be one you climb a mountain with. Comfort is important, but durability
and lightweight are primary. Look no further than the Versa made by Alps Mountaineering.
This pillow weighs-in at under 4 ounces, gives you a nice crescent-shaped sleeping area, measures 12″ x 17″ x 5″. When it comes to durability, we've always had good experiences with Alps.
The brushed polyester fabric isn't quite as comfy as the down-lined pillows above, but it won't crinkle when you move or feel slippery against your skin.
Inflated Size: 12" x 17" x 5"
Weight: 3.8 ounces
What To Look For in a Camping Pillow
Camping pillows all have different strengths and weaknesses, and it all comes down to what type of feel and experience you are looking for. Here are a few factors to consider.
Comfort
The whole point of a pillow is to be able to sleep on it, so above all else, get something that feels comfortable for you. That largely becomes a matter of personal preference, but the products we recommend above are all known to generally be comfortable to most people (there are always outliers out there).
While some people just don't like the feel of an inflatable pillow, we also find that experimenting with the inflation level is a way to get the comfort you like. A couple of the best options we reviewed above are actually a combination of down-filled and inflatability, giving you incredible comfort for a camping pillow.
Inflatability
Nowadays, there is no reason not to use an inflatable camping pillow, because the technology has come so far. The only exception might be if you are camping in your car and have ample space to carry along a non-inflating pillow that will not be exposed to the elements.
A good inflatable pillow either inflates by blowing into it or by simply pressing on the valve. The latter is faster and will cost a few more bucks, but is our preference. When you are setting up camp, you have enough work to do without stopping to inhale into a pillow for two minutes.
Lightweight
If you are carrying a pillow on a backpacking, canoe, or backcountry trip, you know that each piece of gear adds up. You want the lightest of everything — tent, camping stove, and, yes, pillow.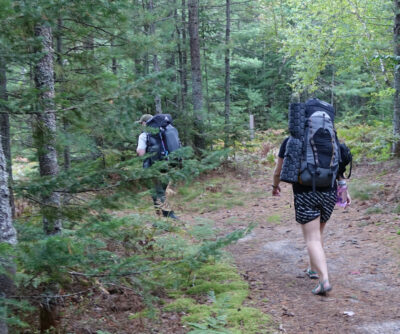 While the pillow doesn't add a ton of weight to your pack, why not choose one that is lightweight? It won't be the only thing in your pack, and you want to save weight wherever you can.  The lighter your pack, the more miles you can hike in a day.
Surface
The pillow's surface is something that might affect its comfort. Many people find that they like a soft surface similar to the pillow they sleep on at home. With a few exceptions, though, it is hard to replicate this feel when camping. Most of the really good inflatable pillows you find will have a slick surface on both sides or a slick surface on one side with a padded or cloth surface on the other.
Surface importance is underrated, because not only does it affect comfort, it can create a pillow that makes noise when you move on it.
If you have a good pillow but are not a fan of the surface, simply wrap it in a t-shirt or towel.
Durability
Durability is key. When we created our list of pillows above, we recommended ones that would pass the durability test. Never buy a cheap pillow that has poor durability reviews. The last thing you want is to have your pillow puncture 3 days into your 7 day trip. While you need to use some common sense in your packing — don't pack your pillow next to your fillet knife! — a good pillow will last a long time if taken care of.
Waterproof
Perhaps the biggest knock on the old-fashioned "mini-pillows" we all used to travel with was that they were not waterproof. Whether you were backpacking through the rain or sleeping on a wet ground, the pillow could get saturated with water and it would literally take days for that pillow to truly dry out again. Nothing is worse than sleeping on a wet pillow. If nothing else, it should be waterproof at least one one side so if you're on the ground, you can have that one facing the moisture.
Latex-Free
Look for a pillow that is latex-free. Most pillows that we review are going to be made of either polyester, nylon, or other non-latex synthetic materials. It is especially important to check the materials before purchasing if you have an allergy to latex, too!