If you need a larger than average tent for your next camping trip, the Coleman Sundome 6 Person Tent, also known as the Coleman Dome Tent, definitely deserves a look. In this article, we'll give you a rundown of the basic details and specs, what others are saying about their purchase, and some other options to consider in addition to the Coleman.  (here on Amazon)
The Basics of the Coleman Sundome 6 Person Tent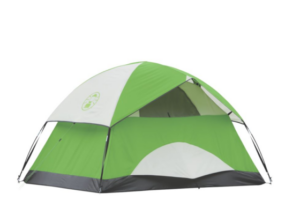 The Coleman Sundome has capacity options for 2 people, 4 people, and 6 people. The 6 person tent measures 10 x 10 feet and has 100 square feet of floor space. It's capable of fitting two queen sized air beds. The polyester 6 person tent comes with large windows, plenty of headroom with a 6 foot center height, and a ground vent that is designed to push heat up. That means you'll be comfortable even if you're out in the summer.
We like to look at high-end tents whenever we can (like the piece we did on the best 4-person tents), and while we would not put the Coleman tents in that category, we do think they are very good value tents for campers who are not going to be in demanding, backcountry conditions.
This Coleman tent is only available in green and has 1 zipper door. It weighs 16 pounds 10 ounces, making it super easy to get back and forth from your site and your vehicle.
The frame can withstand up to 35+ MPH winds and it has a rainfly that offers some protection from weather and rain. With exclusive Weathertec features, Coleman claims you can benefit from
Waterproof floors
Wind-strong frames with Insta-Clip pole attachments
Protected seams
Rainfly
Zipper protection – Made of weather resistant fabric
While the Sundome can stand up to wind and rain, it is not necessarily insulated.  If that is important to you, take a look at our piece on insulated tents.
It does come with conventional pitch, which can take one person 10 to 20 minutes to setup. Some available features include
Privacy vent window
Adjustable ventilation controls
Carry bag and storage bags for tents, stakes, and poles
Screen ceiling so you can look up when the rain fly isn't on
Ceiling ring for hanging a small light
E-Port (Electrical access port)
Two small pockets that are sewn into the tent's wall
Dome with Screen Room that has DarkRoom (Sunlight Blocking) Technology (optional)
The Coleman Sundome 6 Person Tent is an affordable tent, in line with other quality entry-level tents. It comes with a 1 year warranty. You can find it here on Amazon.
What Are People Saying About the Coleman Sundome 6 Person Tent?
People who have purchased the Coleman Dome Tent have had a lot of great things to say about it. In general, it tends to have about 4 stars out of 5 on a majority of vendors' sites and reviewers' blog posts.  Our personal experience with the Coleman Sundome is that it is a good tent for the money, and does well in rain (important for anyone who is getting in to camping, because you can't control the weather!)
It is not a heavy-duty tent, so if you plan to be carrying it in rugged conditions or expect it to be beaten up, then you may want to look around.  The poles could be a little stronger.  It is also not a winter tent (but then again, not many are).
Who is It Great For?
The Coleman Sundome 6 Person tent is great for people who do occasional backpacking and camping. It's also an excellent choice if you're looking to get into camping, especially during the spring, summer, or fall in a warmer location, and want to save a bit of cash on your first tent.
Although you can absolutely take it on longer trips, it may not be best suited for the adventure. Reviewers have reported gusts of wind running through their tent when they took it to colder locations and stated that it does not hold heat well due to its breathable design.
The Pros of the Coleman Pole Tent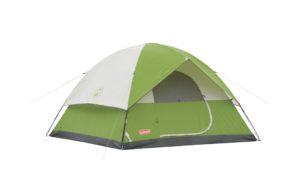 Some great things reviewers had to say about the Coleman Sundome 6 Person Tent include:
It's Easy to Set Up
One aspect that reviewers of this Coleman tent say again and again is just how quick and easy it is to set up. Even though it comes with the conventional pitch, it is extremely easy to pitch and disassemble, sometimes taking only 10 minutes. This is the case even if you have to do it all alone! The instructions are simple and straightforward. Other tents can take up to 45 minutes to set up, so this is definitely a win.
There's Plenty of Space for Smaller Groups
Another plus reviewers mention is the room that comes with the Coleman Dome Tent. With 6 ft, it's not crowded, even when you're standing, and there's plenty of space to move around.
However, it's worth mentioning: with six adults, the max capacity, it can get a little crowded. It may be a better option for 3 adults and 3 children. You may want to go with a bigger option if you want to get six people in a tent. The slopping walls make it difficult to get enough roominess for all six.
It's Durable
Many reviewers have complemented this dome tent on its durability and it can stand up to quite a few years of use. None of the materials feel fragile and most purchasers haven't noticed defects in the stitching, zippers, or fabric. As long as you take care of it, it should last a while.
It's Inexpensive
The Coleman Dome Tent is extremely inexpensive at only $110. There are very few cheaper options available from reputable brands.
The Cons of the Coleman Pole Tent
There are some cons that are worth mentioning that have come up in several reviews.
It May Not Hold Up to Cold Weather That Well
Although the Coleman 6 person tent comes with Weathertec, it really is not mean for super harsh conditions, or cold weather. The rain fly doesn't come all the way down and some purchasers have awoken to a puddle of water in their tent in the morning, even after just a little rain. If you are camping in likely heavy rain, it is recommended you buy a tarp or two to help keep the water out.
If you are planning to camp in notably cold conditions, you may want to invest in a cold weather tent.
There is Little Storage Space
Although the Coleman Sundome does come with two pockets, buyers say it is barely enough to store anything. Many competitors include 10+ pockets, and the two included in this tent can maybe hold a cellphone, keys, or other small items. Reviewers were generally unhappy with how little storage space there was.
Competitors of the Coleman Sundome 6 Person Tent
You have quite a few options out there if you're looking for a 6 person tent and aren't quite sold on the Coleman Sundome. Some to consider are:
OT Quomotop 6 Person Tent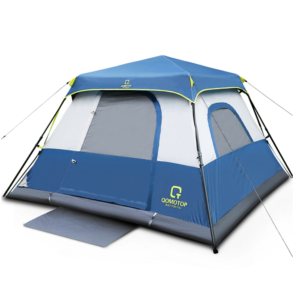 Also for six people, one competitor to look at is the OT QUOMOTOP. It has instant set up (60 seconds), comes with a top rainfly, weighs 19 pounds, and has a 10 x 9 feet interior. The center height is 5"6', with room enough for one queen airbed. It's generally recommended for 3 adults and 3 children. The OT QOMOTOP also comes with an electrical cord port, has a ventilation system, and is waterproof.
If fast set-up is a priority, take a serious look at the Quomotop.
It costs around $140, and you can check the latest price here on Amazon.
Kelty Tall Boy 6 Tent
A second option is the Kelty Tall Boy 6 Tent. Also easy to set up, it weighs 14 pounds, or 15 pounds 4 ounces when packed up, includes a full length rain fly rather than simply a top one, and is made of high quality materials.
As the name suggests, it is a little taller which allows adults to stand up inside the tent — nice when you are getting dressed or attempting to outfit the tent after setting up. It usually runs around $200. You can find it on Amazon.
Other Colemans
There are a few other Colemans that are definitely worth a look if the Sundome doesn't quite fit what you want or you need more space. This includes the
Coleman Cabin Tent ($)
Coleman Montana 6 person Tent ($)
Coleman Elite Montana 8 Person Tent ($$)
Coleman Tenaya Lake 8 Person Camping Tent with Built In Closet ($$)
Coleman WeatherMaster Screened 6 Person Camping Tent ($$$) – Looking for a large tent with a great build?  Check this one out (here on Amazon).
The Coleman Sundome 6 Person Tent is an amazing option if you're looking for an affordable tent that is breathable, spacious, and will stand the test of time. Be sure to compare your choices before making a final decision.