Are you itching to get out on a good, scenic hike, but not sure where to go?  No worries, we can help.
Thanks to the world of the internet, avid hikers and state parks have made websites and apps detailing hiking trails in surrounding areas. These sites are helpful because they outline where to go, the distance of the hike, and the difficulty level.  
These sites also bring visitors that leave comments with personal insight and reviews on the hike. The information from these fellow hikers is almost more informative than the site itself because they can give you insider tips on what to expect on the hike.  You can find the right trail that suits your level of hiking skill.
Read on as we look at where you can find hiking trails near you. 
Federal and State Natural Resources Websites
A go-to place for all things outdoors, when it comes to federal lands, is recreation.gov.  Recreation.gov is the US governments' official outdoors guide, complete with the ability to reserve slots at federal campgrounds.
An informative and somewhat official place to check for local hiking trails are states websites like fish, wildlife, and parks websites. The nice thing about using the state sites is that they give detailed information about the regulations about the hiking areas.  These sites also give you great information that you are not going to find on other sites or apps, such as planned closures, or real-time hazards as determined by the State rangers.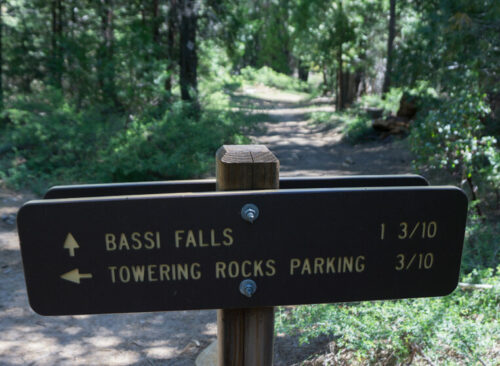 In addition to the up-to-date regulations, you will find updates on the hikes such as early closures and fire warnings — something that is critical to understand and obey. The state sites aren't a one-stop-shop for just hiking trails. They are also a great place to check for state parks, fishing regulations, fishing accesses, campgrounds, snowmobiling, biking, and more. 
Each state park will have its own website and will list out the different hikes in the area.  Some are better than others, but this is often our go-to just because the information is so relevant.
Regional Park Systems Websites
Regional Park is also a great place to look for a hiking trail to adventure on. Like the state websites, they are informative sites that give more details on the rules and regulations of the area. 
Regional Park sites are specified to a public area of land that is preserved by the government, state, or county. In some cases, a group of counties may band together to provide a park and trail administration for their region.  The parks serve the purpose of providing protected areas for communities to use. 
Check your area for your regional park website and its list of local hiking trails. 
Google Maps
If you are looking for a quick search of hiking trails near you, then Google Maps is the way to go. One thing about Google being the number one search engine is that it has accurate information and lots of it. 
Doing a quick Google search in your area or searching, "hiking trails near" will generate a list of hiking trails in your area. In addition, it will give you ratings from the locals and visitors who have done the hikes. 
If available, Google Maps will also provide the website associated with the hike. What's even better, you can use Google Earth to then zoom in and out and understand more details about the area.  We have done this many times, and been able to determine things like the hike's proximity to fly fishing, picnic areas, or if it is suitable for a bike.
Ask the Ranger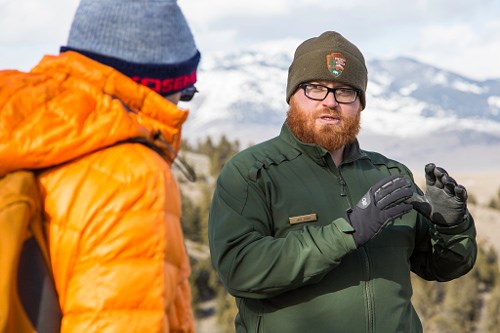 It is obvious now that we say it, isn't it.  Lost in the advent of websites, apps, and information overload is the fact that most park and forest areas of a ranger with a ranger station.  Those folks know the terrain really well, and can usually tell you where their favorite spots are.  More importantly, they can give you a good idea of conditions and exactly what to expect.
Some state parks have a ranger on staff at the entrance.  For others, you may need to find the ranger station which often is situation in a nearby town, and has responsibility for several parks and trail systems.  But they are as close to experts as you are going to find.
Ask Around at Local Hiking or Outdoors Shops
We love using the local angle whenever you can.  Getting advice from someone who is a lifelong resident is usually so much more valuable than reading a review of a tourist who just happened to be passing through. 
A fun place to get some insight on good hiking trails to go on his at local outdoor shops. These can be mountain biking shops, outdoor stores, hiking stores, and even shoe stores that specialize in hiking and trail running shoes.  One of our secret weapons is to stop in to a fly fishing shop.  Even if you are not looking to fish, those store owners and employees are usually outdoors lovers who know the area like the back of their hand.
One thing about taking this strategy vs the ones mentioned above is that you can get information that you wouldn't find on a state or regional site. This could include hiking trails that you never would have known about if the outdoors gear specialist at REI didn't tell you about it. 
For example, they might let you know that they went to the same hiking trial you heard about and it was awful. That might save you the headache of doing a 3-day backpacking trip to a place you have never been before. They might instead recommend a hike you never heard of, just a little further down the road, that is actually more scenic and has less traffic. 
Facebook Groups
Facebook first started as a place to connect with new and existing friends. Now it is more than that serving as a place to find jobs, things to buy, people to date, and even places to hike. 
There are so many different groups and categories on Facebook that there is no doubt that you will find one on hiking. More specifically there is an abundance of local city, metro, county, and region groups that will also provide marked hiking trails in the area. 
If you don't want to join a Facebook group, you can simply use their search engine to search for hiking trails near you. Like Google Maps, Facebook will produce a map of hikes in your area with reviews, comments, and up-to-date information. 
Apps
Last but not least is the apps are a great and convenient way to find trails near you. The cool thing about using the apps is that the trails are downloadable to your phone, so you don't lose a trail when you go offline. Plus, you can study the route in detail before heading out, making sure you have the right trail conditions for your skill level, and the trail you are about to tackle is the right hiking distance for you.
Hiking Project
The Hiking Project is a pretty amazing site that consists of thousands of hikes spread across all 50 states. Hikers can narrow down their search by city or town within the given state. 
Like the other social hiking sites, Hiking Project will give review ratings from people who have done the hikes. One thing cool about the site is that it gives a top hiking trial list for each state based on ratings and comments. This is a nice feature because it will give you an inside scoop on the must-do hiking trails.  
Also, if you want to see some epic photographs of people visiting the hiking trails you will love the Hiking Projects photo directory. Not only will your eyes be greeted with shots of skyscraper mountain peaks, crystal clear lakes, and colorful rock canyons, but you will also be presented with the opportunity to support local outdoor photographers. 
Like the hiking trails, website visitors can place a vote rating on the photos. The votes help the artists get awareness to people who might be willing to hire them for work or to license their outdoor photography. The photo page will list the photographer's social handles for inquires which is pretty awesome!
Alltrails
Apps like Alltrails is one of the most convenient and detailed hiking search engines out there. You can search hikes in and around a city, and the Alltrails will generate a list of hikes in the area. 
Alltrails is nice because it is a review-based system meaning that site visitors are encouraged to rate the hikes with a score of 1 through 5, 5 being the best. While reviews aren't everything, they do give you a good idea of what to expect before taking on a 5-mile hike.  Some areas are more heavily reviewed than others, and you never know if the review is from a local expert or a tourist who is just dabbling in hiking.
Alltrails give a detailed outline of each hike and give a difficulty rating of easy, moderate, or hard. There are over 50,000 hiking trails listed on this platform, so you shouldn't have an issue finding a hike that fits your skill level. 
The Alltrails app also has an integrated GPS so you can track yourself on the hike. The trails can be downloaded so you can follow your movement along the route. This is handy, so you don't waste in cell service while hiking. Having a reserve of cell service is important to have in the case of an emergency situation. 
Strava
If you are more of a trail runner, and someone who likes to pack the trail running shoes so you can get the heart rate way up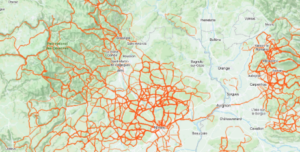 when on the trail, think about using Strava.  Unlike Alltrails, Strava is more geared to people who are working out.  It works great for both mountain biking and trail running, in regard to the trail information you will find.
Strava's heat map feature is really useful to find out where other people like to go.
Hiking Safety
Before going on a hike it is always good to be aware of common hiking safety and etiquette. For safety, try to hike with a partner or a group in case of an emergency situation. The last thing you want to do is sprain your ankle without anyone to help you get out. In addition, having a partner or a group makes you a bit safer in the event of a run-in with an angry, large animal. 
On that note of avoiding emergencies, make sure you have really good hiking shoes or boots.  Using the wrong footwear for the conditions immediately increases your odds of an issue on the trail.  Whether you are going for heavier hiking boots, or lighter hiking shoes, be sure they are designed for all-purpose hiking.
If you do decide to hike alone, be sure to always tell someone exactly where you are hiking and when they should expect to hear from you. This way, if you aren't back and stuck somewhere, local search and rescue know where to look. 
Be sure to always bring the main safety supplies such as water, food, first aid kit, headlamp, extra clothes, and a compass.  We recommend packing these things even if you don't feel you will need them — because you just never know.
Pack bear spray if you will be in an area known for grizzly or brown bears (such as the Montana mountains), and it can't hurt to spray along if you feel you might be close to black bears or moose.  While the latter usually are not a threat to humans, a surprised or disoriented animal of any sort can always be a threat.
Hiking is an amazing sport that offers exercise and unforgettable scenery. When hiking be sure to follow the simple rule of if you pack it in then be sure to pack it out. If everyone does their part then the hiking trails will be used by many generations of hikers to come.