If you love nature and happen to be within a couple hours of Granite Falls, Washington, then working the Heather Lake Trail Loop into your routine should definitely be a plan.
Below, we will provide you with all the necessary information to equip yourself before embarking on this adventure. 
Where is the trail?
Heather Lake is located on a slope situated at the northeast part of Mount Pilchuck. It is found on a 3,950ft elevation, within the Cascades forest. The site is filled with green vegetation and lots of rocks just by the shore.  It is not far from Lake 22, another trail that we profiled.
The Lake is a good destination for people who want a good hike, but also appreciate having a destination lake to be part of the route.  Much like Colchuck Lake a few hours away, the water creates a focal point for the hike. The most appropriate time to visit this site is during the day, as it makes a good dayhike. Overnight trips are also suitable. 
The water in the Lake has a lot of aquatic life, which is a sight to behold. Visitors should note that the trail is quite manageable because it is not that long. It is also steep and rocky with rugged terrain that can cause accidents. However, as of this writing, campfires are not allowed at Heather Lake and nearby Glasses Lake.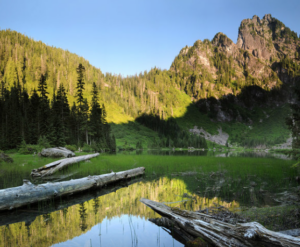 Why hike Heather Lake?
The destination provides a great day hike for visitors. It has a significant amount of elevation gain. Visitors get to enjoy the fantastic panoramic views of Mt.Pilchuck while on the trail.
While traversing through the trail, the guests will enjoy the scenic view of the forest and lake shore around Heather lake.  The trail itself is a loop, something we like. That means you can kind of make this hike as long or short as you need.  Doing the full loop is going to give you about a 5 1/2 mile hike.
The area provides hikers with plenty of places to take breaks from the hike and even have a picnic there. Moreover, during the spring, wildflowers, and wildlife that flock to the site.
The trail is quite rocky in spots, especially when it is not covered by snow during the winter.   If you are planning to hike in winter, crampons and microspikes are highly recommended to make walking on ice a bit easier. The last sections of this high mostly remain icy and snowy late into the year. 
At a minimum, this is a place to break out your more rugged hiking boots, some some good outerwear.  It is probably not the trail for wearing hiking sandals or tennis shoes.
What are the trail hike options?
There is only one route that you can use to get to the trail. You need to head to Everett and the East on Highway 2 as you head towards Stevens Pass. Then, head north on Highway 204 towards Lake Stevens. 
After you have covered a couple of miles, head north on Highway 9, which will direct you to Highway 92 and take you to Granite Falls to join the Mountain Loop Highway. 
At this point, you are 13 miles away from the trailhead. The first 11 miles will be covered on the Mountain Loop Highway, be sure to look out for the Verlot ranger station at the 10 miles mark. Then, turn right onto Mt. Pilchuck access road. From this point, you will be just a mile away from the trail. However, look out for the potholes. Finally, you will see a sign indicating that you have gotten to your desired destination.
How difficult is the hike?
The trail is not in the best form and can be rocky in parts, especially during the rainy season it gets pretty muddy, making it difficult for one to make their way through some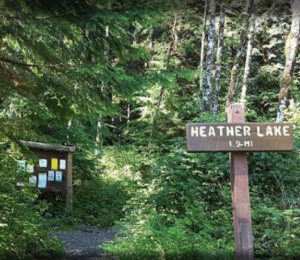 areas. There are also plenty of rocks and roots on site, which can cause damage and even injuries. Generally speaking, be ready for a rugged hike, meaning you should have very good hiking boots and be dressed for the weather.
The hike is quite challenging to maneuver because the terrain is very rugged and treacherous. Even experienced and fit hikers face some sort of difficulty while they are trying to go up the trail. Make sure you have the right hiking gear and are ready given the weather.
You definitely want to use hiking boots on this particular trail. It is pretty slippery and full of boulders. The hiking shoes will promote some sort of ease that will help you make it through the trail.
Also, if you are trying to go for the hike during the winter, you should note that there is a lot of ice and snow build-up at the trail entrance. It calls for a lot of vigilance and precaution to avoid falling. 
Camping at Heather Lake
Camping is an option near and around Heather Lake.  There is limited camping at the lake itself, so you would need to be assertive about getting a spot for the night.  Any overnight camping in this area has on facilities and fires are prohibited, but are some spots to sleep for the night.  The space is not huge, so I would not bring a massive spread, but there are spots to pitch a 4-person tent and put your backpack down.
Nearby, if you want just a bit more of a campground, there are two nearby.  Verlot Campground is near the main road and is probably the most full-service campground with amenities like bathrooms.  It does not have RV hookups (which we like because it tends to keep the camp a little quieter and more rustic).  Mount Pilchuck State Park also has some camping spaces, but similar to Heather Lake, amenities are sparse.
What is nearby?
You can choose to visit a couple of places once you are done with the trail. For instance, you can visit the nearby bakery in Granite Falls for your meals. There is also a brewery – Lake Stevens Brewing Company –  in town where you can get to enjoy a cold drink after all your expeditions.  They have good beer and a nice taproom.
Conclusion
The Heather Lake hike is a great hike to do in the Granite Falls area, just be sure you are wearing good boots.  The reward is worth it — being able to dip your toes into a serene mountain lake.  Something we are gladly willing to hike over some rough rocks for.