Biking is one of the most popular recreational activities worldwide. No matter where you explore, you will probably find access to bike paths or trails, and it is a great way to see a lot of countryside or city in a short period of time.
There are several different types of biking or cycling, and the terms sometimes get a little confusing.  You hear lots of references to various types of cycling and biking thrown around, and if you are not immersed in the sport it can be hard to follow.  We want to solve that for you.
Here is a 101-level overview of the different types of biking you will see referred to.
Mountain Biking
Also sometimes known as singletrack, or MTB.  Mountain biking is well-known around the world, largely because of the emergence of the mountain bike style of bikes being a dominant choice for people, even those who are not in the mountains.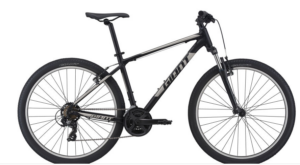 Many bikes that people use for all-purpose riding are of the mountain bike style, but true mountain biking usually involves riding trails, single-track (generally one-way) trails made of dirt and gravel, with lots of ups-and-downs throughout the ride.  Mountain-style bikes can be nice for all-purpose riding, because they can cover any terrain.  If your commute might encounter gravel, pavement, and some grass, a mountain bike could be good for all of it.
Mountain bikes also work great for pulling a trailer or a Burley.
Because of the terrain and amount of climbing, mountain bikes usually have lower gearing (so you can climb more easily), more rugged tires, and geometry that shifts your weight back so you can be responsive to rocks and obstructions.  This same low gearing prevents you from going as fast as a road bike.
If you are new to mountain biking, take it easy at first and don't tackle advanced trails.  There are lots of mountain biking basics to learn, and going on too-advanced trails is a way to get injured.
Great For: Exploring the outdoors on dirt bike or singletrack trails, and areas where climbing will be frequent and being nimble will be key. Also great for pulling trailers.
Not Recommended If: You will be doing long touring rides where speed or a more aerodynamic posture are helpful.
Road Biking
Road biking is what you see probably large groups of riders doing in your neighborhood on Saturday mornings, as they ride around on paved roads.  It is also what the riders in the Tour de France are doing.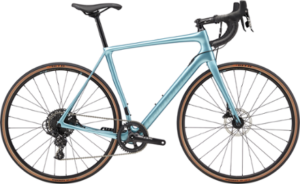 Road riding is very popular, but there is always the ever-present risk of traffic and getting tangled up with a car.  Many road cyclists alternate their rides between shoulders of roads, and paved trail systems that allow them to get mileage off the road.  
Road bikes are built for speed, with skinny, low-friction tires, high gearing that allows the rider to get more speed from each pedal revolution, and geometry that is more aerodynamic.  A good road bike nowadays can be quite expensive – many thousands of dollars – given the high-end componentry, and the race to make the bikes lighter-and-lighter.  Still, a road bike can be a great option for people who want to commute around town on a bike that will be easy to ride and efficient to pedal.
Road bikes are usually made of aluminum or carbon fiber.  Carbon fiber is synonymous with more expensive.  Road bikes also tend to have much skinnier tires.  In fact, many road bikes ride on tires of widths less than 30mm, so they are not best if you will find yourself on grass, dirt, or loose gravel.
Great For: Exploring areas by paved road, when you want to cover more ground than any other bike will allow you to.
Not Recommended If: Your route will take you along rough surfaces or singletrack routes, where a more agile posture is useful.
Hybrid/Comfort Biking
About 25 years ago, a type of bike hit the market that had always been around, but had never really been considered its own category.  The hybrid or comfort bike is what you envision a typical bike that you might find sitting in someone's garage to look like.  Relatively upright in its geometry, with mountain-bike style tires and nothing too high-tech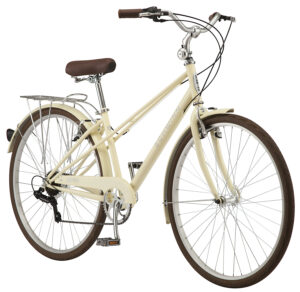 about its components.
Hybrid or comfort bikes are a popular choice with bike rental shops, because they are universal and pretty much everyone can hop on and ride them.  This is great if you are on vacation and just want to explore the local trails, or ride to the beach or an ice cream shop.
What's the downside?  Hybrid or comfort bikes are slow, generally don't have very extensive gearing choices (making riding fast or climbing more difficult), and are not built to go off-trail, or even on dirt paths.  They also tend to be quite heavy.
Great For:  Touring on tame bike paths when speed is not an issue.
Not Recommended If: You need a more aggressive ability to climb and turn (mountain bike) or you need speed for long routes (road bike).
Fat Bikes
Popular for years in Northern climates because of their ability to easily ride across snowy paths, fat bikes have grown in popularity in recent years.  Today, fat bikes are being made by most major bike manufacturers and they are getting lighter and more advanced each year.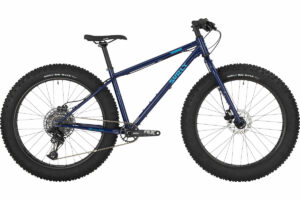 Fat bikes are the bikes that have super fat tires, even wider than mountain bike tires.  It is typically for a fat bike to have tires that are 3-4 inches across.  We even see some that are 5 inches across.  Typically, the wider the tire, the more it will "float" across snow or sand — although you will still want to stay on trails when you can.
Fat bikes typically have 3 uses:  Winter riding, because the fat tires do better on snow and ice.  Beach riding, because the fat tires tend to "float" better over sand.  And unpredictable rocky and loose terrain, where you need to be ready for anything and want a forgiving tire to roll over the imperfections.
Great For:  Winter bike riding, exploring sandy beaches, or riding trails that might have many surface imperfections.
Not Recommended If:  Most of your riding will be on hard, flat, fast surfaces. The fat tires will create extra friction.
Gravel Bikes
Gravel bikes resemble road bikes, but are different in a few key ways.  As the name suggests, gravel bikes are built to ride on gravel — gravel roads, trails, and the like — but are still quite effective on paved surfaces.  This makes gravel bikes pretty all-purpose.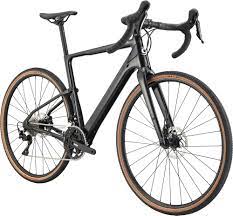 Gravel bikes typically have a road-style frame, but with some features that make them better on the gravel roads.  The most important feature, arguably, is the ability to accommodate wider tires.  A road bike typically uses 23-25mm tires, whereas a gravel bike will want 35-45mm tires in order to provide a better ride on gravel.  The bike's frame needs to be slightly different to fit this wide a tire, which is why a gravel bike is not simply a road bike with wide tires, but is actually its own style of bike.
Because gravel bikes are closer to road bike geometry than mountain bike, they are much smoother and faster on pavement than a mountain bike would be, making them great for rides that incorporate a little of everything.  This versatility is making gravel bikes a growing segment of the bike market, and we expect it to continue.  To a casual observer, though, they look quite a bit like a road bike at first glance.
Great For: Riding country roads or exploring state parks using forest service roads.
Not Recommend If: You are really in mountain biking terrain. Otherwise, gravel bikes are a great all-around option.
E-Bikes
Also known as electric bikes, E-bikes hit the scene a few years ago and have been quickly increasing in popularity.  Recent market research showed that E-bikes were the fastest-growing bike segment.  They are popular with commuters who want additional speed, and riders who prefer a bit of a motorized assist on hills and trails.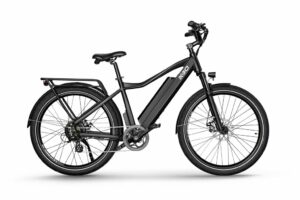 E-bikes are built with a hybrid style of frame, very relaxed and all-purposes, but have a small electric motor on them that can help provide speed assistance.  It is kind of like having the strong wind at your back at all times.  There is actually a limit on how powerful the motor can be before it is considered a moped or motorcycle – which in many states would require an additional license to ride.
They are common with older riders who want to be active outdoors, but might be losing some of the leg or VO2 strength for those more difficult rides. In fact, seeing a high number of older riders on e-bikes has been one of the most noticeable changes on the bike trails I ride on. It is good to see more people outside.
E-bikes are most commonly found on paved trails.  More and more bike commuters — especially those who mainly commute on bike trails or bike lanes — also like them.  As for exploring nature, you won't want to use E-bikes on trails that are going to be rugged or require you to be nimble.  E-bikes tend to be heavier and are better-suited for tame trails.
Great For: Touring city parks using paved trails, or doing point-to-point rides on bike trails.
Not Recommended If:  You need to be able to quickly throw the bike in your vehicle. These bikes tend to be quite heavy.
Finding a Bike on your Travels
If you are exploring some of the places we write about, and interested in cycling in order to cover more ground, there are a few ways to do that.
Commonly, many destinations have bike rental locations. These can be higher-end bike shops, or more touristy bike rental spots. If you want a durable bike with a higher level of performance, seek out a full-service bike shop and ask what kind of rentals they offer. Some of the more casual bike stands only offer single-speed bikes meant for slow leisurely speeds.
You can always carry your bike with you, especially if you are driving to your destination. Don't skimp on a bike rack.  Some of our favorites are the hitch-based racks made by Thule or Yakima (the same maker of our favorite car-top cargo box, the Yakima Skybox Carbonite).  A flimsy, cheap bike rack is no way to haul what might be a nice and expensive bike.
Don't Forget About Safety
Regardless of the type of biking you plan to do, don't forget about safety.  Just because you are doing a style of biking that is perceived as lower-impact doesn't mean you can't get in an accident just like the next cyclist.  At a minimum:
Always wear a built-for-cycling bike helmet
Wear sunglasses other other eye protection
Wear good shoes, preferably cycling shoes, that protect your feet.  Don't wear your hiking sandals on a mountain bike singletrack trail, for example.
Avoid heavy traffic. If you must ride for a bit on a trafficked, road, stick to the shoulder or bike lane.
Stop at intersections just as you would if you were in a vehicle. Never assume the cars are stopping for you.
Wear proper clothing that provides some coverage and is not loose.
Don't ride at dusk, dawn, or night. That is when most fatal bike accidents occur.
Choose the right bike for the situation.
Don't go on trails that are above your skill level