Best Kayak Fish Finder: Top Choices for Paddling Anglers
Kayak fishing is one of my favorite outdoor activities, one that combines the peacefulness of kayaking with the thrill of catching fish. If you want to increase the odds of actually catching that fish you are looking for, a kayak fish finder can be an essential piece of equipment. Much like its cousin, the ice fishing flasher, the fish finder is based on sonar technology to provide an underwater view of fish and underwater structures, helping you make better decisions on where to stop paddling and cast your line.
Fish finders come in various shapes, sizes, and features, sometimes creating an overwhelming number of decisions. This can make it a challenge to choose the best fish finder for your own kayak fishing. While kayaking requires simplicity and compactness and you don't want to negate that with a heavy, bulky fish finder, a good fish finder also needs to balance advanced features, compactness, and user-friendliness.
I think the primary factors to consider when purchasing a kayak fish finder include display size, sonar type, GPS functionality, battery life, and ease of installation and use. Balancing these features with consideration towards your budget will ensure an optimal investment.
A high-quality kayak fish finder can really help you understand the body of water you are on, and increase the success rate "getting you on the fish" as experienced anglers like to say. I delved into the world of these indispensable tools, evaluating various options and rigorously testing their in-kayak performance to identify the best kayak fish finder for your angling adventures. Whether for avid kayak fishermen or those new to the sport, the right fish finder can make a world of difference in your pursuit of the perfect catch.
Best Kayak Fish Finders
I compiled a list of the top kayak fish finders to help you make the most of your fishing adventures. Check them out below to find the perfect device for your needs.
I'm a big Garmin fan in general. In fact, I've been wearing either their Forerunner or Fenix watches for years. The Garmin Striker Vivid 4cv is a versatile and user-friendly choice for those seeking a high-quality kayak fish finder.
Pros
Vivid screen color for easy fish and structure distinction
Excellent transducer setup
Because it is Garmin, you get high-sensitivity GPS for marking hot spots and tracking speed. Nobody else comes close to the Garmin brand when it comes to GPS.
Cons
Potential learning curve for the ClearVü scanning sonar
Short transducer cable for some boat setups
Lack of detailed instructions for brand new fish finder users
A partner and I recently tried out the Garmin Striker Vivid 4cv fish finder on our kayak and found that the 4-inch color display with new high-contrast color palettes made it highly convenient for us to spot fish underwater. The GT20 transducer provided us with exceptional Garmin CHIRP sonar and CHIRP ClearVü scanning sonar, allowing us to see the underwater structure more clearly.
The high-sensitivity GPS that comes with this fish finder made it easier for us to mark fishing hot spots, create routes, and monitor our kayak's floating speed. This speed info was really nice, because often you are drifting faster than you realize, and can easily get away from the spot you intended to hang on. Additionally, Garmin's built-in Quickdraw Contours mapping was a useful feature for creating and saving our own custom map with 1-foot contour lines.
A downside was that the ClearVü scanning sonar took some time to grasp fully.  You need to play with it a bit to get adept at using it on the water. We also noticed that the provided transducer cable might be too short for some boat setups, requiring users to acquire a longer cable.
We would like to see Garmin add instructions that are geared a bit more to first-time users. We are experienced, but can imagine some new kayak anglers may scratch their heads when reading the instructions.
Overall, I think the Garmin Striker Vivid 4cv is an excellent option for anyone looking to purchase a kayak fish finder. With its easy-to-use interface, high-contrast color display, and exceptional sonar capabilities, you won't be disappointed when using this helpful gadget on your next fishing adventure.  Find it here.
The Hawkeye FishTrax 1C-K is a versatile and portable fish finder, suitable for all paddle sports enthusiasts looking to improve their fishing experience.
Pros
Well-built mounting kit for easy mounting on most kayaks, canoes, or smaller boats. Probably the best for someone who prioritizes mounting ability.
100% waterproof design
30-hour battery life with standard AAA batteries, which exceeds the other options.
Cons
Depth readings seemed to be suspect in some instances
No GPS functionality compared to competitors
Changing batteries, rather than recharging, might be a downside for some
I gave the Hawkeye FishTrax 1C-K on a kayak fishing trip, and was impressed with its portability and versatility. The all-in-one kit made mounting the fish finder easy on our kayak. Its waterproof construction ensured durability, and the 30-hour battery life with just four AAA batteries eliminated the need for a bulky external battery pack.
The FishTrax is really a buit-for-purpose device, which I liked. It is pretty much made for fishing from a kayak or canoe.
The FishTrax 1C-K displays fish, bottom contours, bottom composition, water depth, and temperature readings with a single press of the power button. I was also impressed with the glare-free VirtuView display that made it easy to read data in various light conditions.
As much as I liked the FishTrax, I noticed a few drawbacks. The depth readings seemed inconsistent and sometimes way off from what I knew the actual depth of the water was. This might have just been a latency issue with the sonar, as I was moving around on some structure. While this may not bother anglers who primarily want fish detection data or who are fishing lots of flats or shallower bass water, it might be a turn-off for users who rely heavily on accurate depth data to find small holes and structure.
I did not use the device enough to be able to comment on its durability.
It's also worth noting that the FishTrax lacks GPS functionality, something I have grown to like and which can be found in competitor products like the Garmin Striker. If GPS and tracking are important features for you, you might want to consider other options.
In conclusion, the Hawkeye FishTrax 1C-K is a good choice for paddlesport users who value portability, a good strong mount, battery life, and ease of use. However, the latency on depth detection and lack of GPS were the main downsides to me.  Find it here.
The LUCKY Portable Fish Finder is a reliable and convenient choice for kayak anglers seeking an affordable and easy-to-use fish finder.
Pros
Clear 2.4-inch color LCD screen
Rechargeable with 5 hours of continuous use
User-friendly settings and underwater contour display
Nice price
Cons
Limited to 26ft wired operating distance
45° beam angle, could be wider
No carrying case included
Battery life could be short for some all-day users
We recently had the chance to test the LUCKY Portable Fish Finder during a morning of kayak fishing on a relatively large lake. The updated 2.4-inch TFT color LCD screen offered a clear view of the underwater contour, water depth, and fish size. The device has a rechargeable feature which is very convenient, and after fully charging it, we were able to use it for about 5 hours.  Only you can decide if 5 hours is enough charge for you.  It worked for us, but I envision some days when that would be cutting it a little close.
The 26ft wired operating distance was somewhat limiting and we would have preferred a wider beam angle than the 45° offered. One thing we missed was the absence of a carrying case. A case would have been helpful in protecting and storing the fish finder when not in use.
The LUCKY Portable Fish Finder provides customizable options such as adjusting the sensitivity, screen brightness, depth range, zoom, depth alarm, fish alarm, fish icon, units, and language. This allowed us to tailor the device according to our preferences, making the experience more enjoyable and efficient.
During our trip, we used the fish finder mainly in 5-22 feet of water, on the search for bass and schools of perch. However, I can see how this rig would be useful for winter ice fishing as well. The included bracket made it easy for us to attach the sensor transducer to the kayak. Overall, the LUCKY Portable Fish Finder proved to be a functional and helpful tool for our kayak fishing adventure.
If you can overlook the limited wired operating distance and the lack of a carrying case, the LUCKY Portable Fish Finder is a great option for kayak anglers seeking an easy-to-use and affordable device.  Find it here.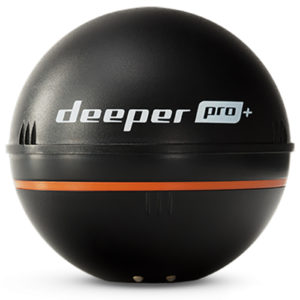 As we've been exploring different kayak fish finders, we came across the Deeper Smart Pro Sonar – a unique and innovative option for anglers. Unlike traditional fish finders, this device is a floating sonar ball that connects to your smartphone through an app.
The Deeper Smart Pro Sonar brings incredible portability and convenience to kayak fishing aficionados. Its small and lightweight design allows for easy transportation and quick setup. Just toss the floating sonar ball into the water, and it begins scanning the underwater environment while simultaneously sending the data to your smartphone.
I fell in love with it the first time I used it.
Pros:
Ease of use: One of the main advantages of the Deeper Smart Pro Sonar is the hassle-free setup and operation. No need to install any additional hardware on your kayak, as it works wirelessly with your smartphone.
Portability: Due to its compact size, the device is extremely portable, making it an ideal choice for kayak anglers who may have limited space.
Smartphone app integration: The fish finder app adds extra functionality to the device, such as GPS tracking, mapping, and the ability to save and share your favorite fishing spots. Being able to connect to an app on your phone reduces the need to carry or care for one more screen.
Cons:
Smartphone dependency: The Deeper Smart Pro Sonar requires a smartphone to work, so if your phone's battery dies or loses connectivity, the device becomes useless until you can charge and connect your phone.
Limited range: While the device has a decent range, it may not be as extensive as some other fish finders on the market. It's essential to keep the sonar ball within a certain distance to maintain connectivity.
Phone battery usage:  The app on your phone sucks your battery pretty fast when using the sonar ball.  You will definitely want to start with a fully-charged phone.
I loved the convenience of the Deeper sonar ball, because it enables me to carry less stuff when fishing, which is always a goal anytime I am kayak fishing or ice-fishing and carrying my gear by hand. Accuracy was good, and the readout on the phone's app was excellent.  I just wish it would not use so much of my phone's battery life.
The Deeper Smart Pro Sonar is a viable option for those looking for a portable and easy-to-use fish finder for their kayak fishing adventures. As long as you are mindful of its limitations and ensure that your smartphone is always charged and connected, this innovative device can enhance your fishing experience.  Find it here.  
Buying Guide
So what should you look for in the bests kayak fish finders?
Firstly, we must consider the type of display. Fish finders come with monochrome or color displays, and while color displays are more visually appealing, they can be more expensive. We should think about our budget and how important a color display is to our fishing experience.
Another important aspect is the screen resolution and size. Higher-resolution screens offer better detail, making it easier for us to identify fish and underwater structures. We'd recommend opting for a fish finder with at least 800 x 480-pixel resolution. Screen size is a matter of personal preference and the available space on our kayak. Generally, a 3-5 inch screen is suitable, but a larger one might be preferred if space allows.  Keep in mind, you might be fishing on bright, sunny days, and you will want the best screen resolution you can get.
Additionally, it's essential to choose a fish finder with a suitable frequency and sonar type. Higher frequencies (such as 200kHz) are better for shallow waters, while lower frequencies (like 50kHz) perform better in deeper locations. Side-imaging and down-imaging sonar options offer us more detailed and accurate views of what's beneath our kayak. It's important to evaluate our fishing environment and needs when selecting the right frequency and sonar type.
It might be optional, but I personally really like having GPS and mapping capabilities. Having GPS on our fish finder not only helps us track our location but also allows us to save waypoints, follow routes, and track our speed. Mapping features can include preloaded maps or the option to create custom maps, further enhancing our fishing experience.
Lastly, we must carefully consider battery life, especially if we plan on spending long hours on the water. Having a fish finder with a sufficiently long-lasting battery ensures that we can focus on fishing without worrying about our gear running out of juice.  This is perhaps a primary reason to match the fish finder you choose with the type of fishing you do.
Frequently Asked Questions
How do you properly set up a fish finder on a kayak?
It depends on which fish finder you go with.  Some have mounting kits, others (like the ball) don't need any mounting.
To set up most mounted fish finders on a kayak, first, you'll need to gather necessary equipment such as a mount, transducer, and power supply. Start by placing the fish finder on a suitable mount or create your own. Next, install the transducer on the bottom of the kayak, ideally at the stern to avoid interference with paddling. Wire the transducer to the fish finder and then connect it to a reliable power source. Make sure to securely fasten all the cables to avoid any damage or entanglement.
Given the growth in paddling, I expect to see even more fish finder options that have easy mounting for kayaks.
How to choose the right size fish finder for a kayak?
When choosing a fish finder for your kayak, consider factors like the size of your kayak, available space, screen size, and budget. Typically, smaller fish finders with 4-5 inch displays work well for most kayaks. However, if you have a larger kayak or prefer more detailed and split-screen views, you can opt for a 7-inch or larger display.
Perhaps even more important is making sure you have the right sonar power. Don't get a sonar built for shallow water if you will be paddling out to 45 feet to fish in.
What are the essential features to look for in a kayak fish finder?
The short answer is that you need to match the fish finder with the type of fishing you will do. Universally, though, some essential features in a kayak fish finder include:
High-resolution display for clear underwater images.
GPS integration for accurate positioning and mapping.
CHIRP sonar technology for improved target separation and detailed fish arches.
Multiple frequency options for both shallow and deep water scanning.
Water resistance to withstand splashes and harsh weather conditions.
Battery life suitable for your type of fishing.
Which fish finder models have the best battery life?
Fish finders with the best battery life are those that offer efficient power consumption and the option to use external power sources. Brands like Garmin, Lowrance, and Humminbird have models that provide longer battery life. Specifically, the Garmin Striker 4, Lowrance Hook Reveal 5, and Humminbird PiranhaMAX 4 are all known for their extended battery life, ensuring uninterrupted use during your fishing trip.
My Recommendation
All four fish finders I reviewed here are good quality and will work for many fishing trips.  I only reviewed fish finders that I thought were worth considering.  I would not fault you for picking any of them.
With that said, I like the Garmin Striker 4 as my top choice overall. I liked the accuracy, display, functionality, and GPS features.
The Deeper Sonar Ball is probably my top choice for people whose priority is to save space and avoid having to power and care for another screen…. just be sure you have your phone fully charged.