Not everyone has the luxury of taking off to the backcountry every weekend. What do you do when you're an avid camper and live in a city? Enter urban camping.
Urban camping is simply camping within an urban or suburban environment. It can be as simple as setting up shop in a public park, unoccupied land, or parking space. 
Tired of your everyday routine and need a quick change of scenery? Urban camping is your best bet as you can be close to the comfort of your home while enjoying the lovely environment outdoors without any worries.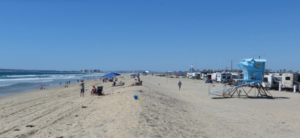 Whether you're on a short staycation and can't afford to leave for a long period, urban camping is the best way to go. You can enjoy the experience of camping without globe-hopping or investing in expensive camping gear.
Urban camping can be as close to home as you want, even on your rooftop! No need to pack a suitcase and spend an unworldly amount of money on hotels as urban camping is very affordable and gives you something new and adventurous to experience without having to go to the extremes of camping in the wild. 
Bike camping and bikepacking is often very compatible with urban camping.  In many areas, just hop on a bike trail, head toward a county park, and find the campground.
If you have children and live in close quarters, how will you let the kids enjoy outdoor play in tents when you do not have enough space for them to play outdoors? Let them sleep in a tent somewhere in the metro area of course! 
How is Urban Camping Different Than Backcountry Camping? 
Urban camping can be done anywhere in your city or metro area. It is much more convenient for many people who do not have the chance to go camping for months and only have a few days or even just a single day to have the experience.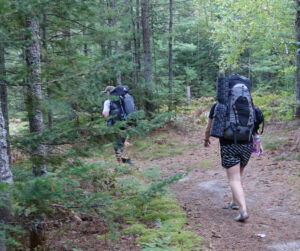 In many ways, it is safer because you do not have to be in the wild, so you do not have to be as cautious of wild animals, and you will most likely have good cell reception. If you are hit with unpredictable weather such as a rainstorm, you can always pack up and head home without worrying about getting yourself back to safety. 
You will not have to spend as much time battling the elements. With urban camping, there is less probability of high numbers of bugs, critters, snakes, etc.  Yeah, there will be some, but not like in the forest or backcountry. You can wake up and go grab a fresh coffee early in the morning.
However, nothing is perfect! Some drawbacks to urban camping may be the noise of traffic in the city. You would be lucky if you found an area to camp that had absolutely no distant car noise.
This is unlike non-urban camping where you are likely to be far away from the rush and noise of city life and away from the busy lifestyle that everyone in the city has.
Non-urban camping is when you escape city life and indulge yourself in experiencing a few nights or more, far away from home, sometimes in another city or country as well, amidst an area surrounded by trees and nature. 
Most of these areas are reached after a strenuous hike or climb. You have to pack and carry along a lot of expensive gear, adding up to everything including dishes, food, tents, clothes, essentials, and necessities.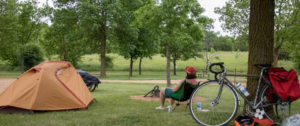 If you happen to not find comfort in this new environment, it is a lot tougher to pack up and head home, unlike urban camping where you're already in the city you are likely to live in.
You are also prone to danger such as animals that come out at night in search of food. Extra precautions need to be taken in this case, which is not a worry when urban camping. Most people try urban camping before non-urban camping to see if they enjoy it enough to take it up a level. 
Where To Find Good Urban Camping Spots?
Finding a good urban camping spot shouldn't be too hard as it could be as easy as camping in your backyard.
Finding a spot near your home is essential so that if you aren't enjoying the experience as much as you thought you would, you can walk right back into the comfort of your own home and sleep on your own bed. 
Regional or County Parks
Regional parks or county parks have the perfect natural environment to go urban camping in. They're close to home and relatively away from the noisy lifestyle of the city. 
These areas are perfect to get you started on experiencing camping in general. You can find empty parking lots where you can set up your camp or secluded grassy areas behind parks where there aren't too many people during the day. 
State Parks
Some state parks are very close to urban areas. State parks are perfect if you plan on spending the daytime outside your tent and away from the noise. They are usually quiet and peaceful during the night. 
If you are camping in a public park, always check the laws and see if it is legal. Not all parks can be camped in!  Be sure you are legal.  You may need a permit to put a tent up in a state park.
Hipcamp and Similar Apps
There are HipCamp members in various areas that have large properties and will happily rent you out a spot for the night. Amenities that you can sign up for include tent camping, outdoor stays, tree houses, glamping, and even cabins. 
These people own large properties and they make use of them by turning them into urban campgrounds. Pretty much the AirBnB of the outdoors! 
HipCamp gives you a unique experience for your outdoor stay with many activities and amenities included as well as staff or members to guide you along the way. If you want to explore the area during the day, the person will help you with routes and advice on where to go and what to do.
RV camping is also a convenient and safe option. Some campgrounds have RV-designated areas for you to utilize. Some people prefer urban stealth camping to avoid having to go through the process of getting permission to camp in a specific area.
How To Pick An Urban Campsite
Always do your research on the legalities in the area. Not all public spaces allow you to set up a tent! Note down the local population and crime rate in the area to stay on the safer side. Find an area away from traffic and noise.
Even though it is urban camping, you still need to know some of the camping basics.
It is best not to camp alone. Add two to three people to your party for safety, and prevent theft by taking extra care of your belongings and not leaving them unattended. You might also think about how to lock your tent in the event that you leave it for the day. 
You have to clean up after yourself so that the locals do not have a problem with you camping in their area. Also, picking up after yourself such as trash will prevent rodents from entering your camping area.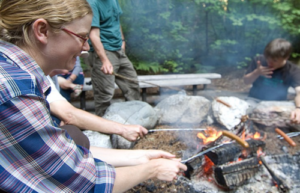 If you are intending to build a fire, make sure that you are in compliance with any fire laws, and always be sure your first is 100% extinguished before leaving it or going to sleep.
Use environmentally friendly products and make sure not to throw any plastic around. Be mindful when it comes to dealing with locals around you as it is you who is occupying a space in their area for your entertainment.
Always have a plan B, which includes a second camping area as an option so you have a place to go in case something doesn't go as planned in your initial plan.
Do your research beforehand on the city routes and rush hours so your time and energy are not wasted in trying to figure out where to go or by being stuck in traffic for hours. Try to head out ahead of time to save yourself from rush hour.
If you are booking a campground area to camp in, keep in mind the situation the campground may have. It may not be the most beautiful out there with greenery and acres of land. Some are just plain concrete lots that will act as a place to spend the night.
Note down nearby restrooms for you to use when nature calls! If you can not find any public restrooms, find a business or 24-hour shop that has a bathroom you can use. Do not use the public spaces as a restroom! 
Another point to keep in mind is always rechecking the week's weather before planning to camp outdoors. You do not want to be hit with a rainstorm and be forced to head back home. 
Final Thoughts on Urban Camping
While not everyone has the luxury of spending weeks in the backcountry, everyone can set up a tent nearby as long as the laws allow it. Urban camping is a fun way to spend some time outdoors and yet not sacrifice the creature comforts of home.
Have fun, stay safe out there, and happy camping!