One of the worst things on a hike is wet socks! Not only do your feet get cold and soaked, if left unchanged, they can lead to loss of circulation, blisters, and problems with nerve function! Waterproof socks, though, can be comfortable, warm, and – most importantly – keep that water out.
So what should you look for in waterproof socks? We'll answer that question and more – and give you 3 of the best waterproof socks on the market today.
Why Should You Have Waterproof Socks?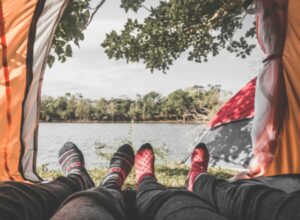 If you're expecting to be hiking or cycling through wet conditions or hitting the water in your kayak, you need a pair of waterproof socks. They keep water away from your feet, but also have the right materials to keep them warm – even in harsh or extreme conditions. If you are unable to change your socks for a bit, either, these make sure your feet aren't soaking in dampness which can lead to health problems such as circulation issues, loss of nerve function, and blisters.
What Should You Look for in Waterproof Socks?
So now that you know why waterproof socks are so important, what should you look for in them? Aside from a waterproof membrane, you really need to decide: what type of waterproof socks do you want?
There are two types: oversocks and waterproof socks.
Oversocks
Oversocks are simply socks that go over your current socks and tend to be made of breathable, yet waterproof, Gore-Tex membrane. There are even oversocks that can go over the entire shoe. While this is great for cyclists, this isn't really a viable option for hikers or runners.
3 Layered Waterproof Socks
Waterproof socks are designed for runners, hikers, kayakers, and other people who are facing wet weather or conditions. They can be used on their own or with your current socks and are generally made out of three layers: a coarse material, the hydrophillic (waterproof) membrane, and a soft material that lies against your feet. The hydrophillic membrane is the most important part in terms of waterproofing. Not only does it keep water out, but it keeps the sock breathable and catches your sweat.
What Else Do You Need to Know Before Buying?
In addition to knowing which type of waterproof sock to buy, there are other facts you should remember before you purchase:
• Your shoes or boots need to be able to accommodate thicker socks.
• If your shoes don't have the room, you can go with a lightweight option.
• Look for socks with reinforced heels and toes for durability.
3 Best Waterproof Socks
Let's dive into three of the best waterproof socks next!
Sealskinz Waterproof Trekking Thick Mid Sock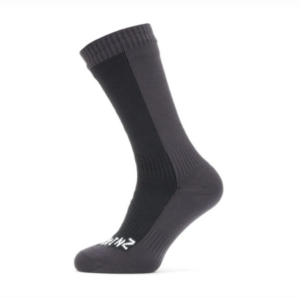 We love Sealskinz for seriously wet conditions.
The Sealskinz Waterproof Trekking Thick Mid Sock is one of the most durable waterproof socks on the market today! Unisex, they are stylish, comfortable, flexible (thanks to zonal elastication) and breathable. Construction wise, they are 3 layered waterproof socks and feature a soft merino wool as the interior lining which helps with moisture control as well as comfort. The interior layer is also antibacterial.
This particular waterproof sock from Sealskinz is also lightweight and tend to fit well, but they may be a bit too heavy for the summer. They come in a variety of colors including black/anthracite.
Pros
Lightweight and breathable
Perform very well in truly wet conditions
Cons
Can feel stiff
Maybe too heavy for hot summer days
Sealskinz All Weather Mid Length Socks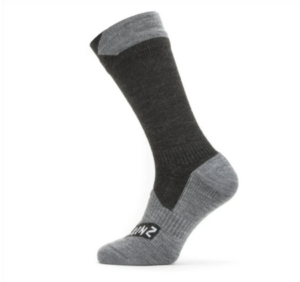 Another waterproof from Sealskinz, this all weather option is a little lighter than the option above.   AS noted above, Sealskinz are truly waterproof, quite a sock if you know you will be getting wet feet.
Sealskinz also have zonal elastication and an interior lining of merino wool. But not only is this waterproof sock option a great choice for outdoor activities, it's also perfect for every day use!
While extremely comfortable, they will not, however, stand up against the extreme cold due to their lightweight nature.  They are not exactly thermal — the materials are devoted to waterproofing instead. The All Weather Mid Length Sock is available in black/grey marl, grey/grey marl, and Navy blue/grey marl.
Pros:
Very waterproof
Don't get heavy when wet
Cons:
Not thermal
Can feel a bit "plasticky" at time
Dexshell Hytherm Cold Weather Socks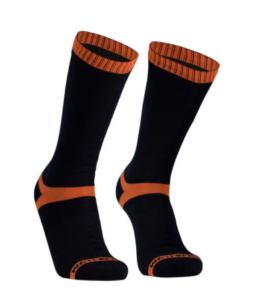 Our third best waterproof sock on our list is the Hytherm Pro Socks from Dexshell. Perfect for a number of outdoor activities and everyday use, they are able to stand up against damp weather. Durable, comfortable (with merino wool), and with plenty of breathability, they have the materials that keep water out and your feet untouched. They even come with a cushioned foot bed.
While these are great waterproof socks, they may not entirely be able to stand up against extreme damp conditions. However, for most uses, they will do the trick – and over several days of use, too!
Pros:
Comfortable foot bed
Quite thermal – the best choice for cold conditions
Cons:
Might not hold up to persistent submerged conditions
FAQ About Waterproof Socks
Should I Buy Oversocks or Waterproof Socks?
Whether you buy over socks or waterproof socks depends on the activity! Oversocks are great for cycling but will be ruined if used for running and hiking. Waterproof socks are an option for nearly every outdoor activity.
What are the Downsides of Waterproof Socks?
While waterproof socks are a great way to keep water out, they definitely do have downsides. They tend to be thicker, which can lead to sweat buildup — especially if they don't have good wicking properties and if you're using them during the summer. Some may also find this thickness uncomfortable with their shoes and boots.
Can I Just Go With Waterproof Boots or Shoes?
Waterproof boots and shoes, while a necessity, can still get water in them if the water goes over the top! Socks give you that extra protection that you'll be thankful for if you happen to step into a deep puddle or larger body of water by accident.  Even if you use a ton of waterproofing spray, a hiking boot or shoe can leak through seams and openings.
What Are Waterproof Socks and Oversocks Usually Made Of?
The materials used in waterproof socks depends on the brand, but common materials can include nylon, Gore-Tex or other waterproofing material, merino wool, acrylic, elastics, wicker liner, polyester, and polycolon.  Typically, they rely on the same materials as waterproof hiking boots and other waterproof gear.
When Should You Wear Waterproof Socks?
You should wear waterproof socks when you're expecting to be in wet conditions. They can be used in any sport and activity from golfing to canoeing!
Are Waterproof Socks Actually Waterproof?
Yes! As long as they are listed as waterproof, they should be. All of the best socks we listed above are.
Can You Wash These Socks?
Waterproof socks are washable but always follow the instructions on them. They should be washed inside out and on the hand or wool wash cycle on your washing machine.
Waterproof socks can be a life-saver! Which of the examples above will you be getting?