Hunters should get themselves fully prepared before heading out, and nothing ruins a hunt like having sore or wet feet. Since hunting normally involves lots of walking, footwear is critical to a good experience, and built-for-purpose hunting boots are normally the natural choice.
Resist the urge to wear normal hiking boots.  Hiking boots can be great if conditions are perfect, but when hunting you are likely to encounter rocks, snow, mud, water, and possible cold temps.
Hunters can choose boots based on a number of factors: the material of the boots, the season, temperatures, and the hunting area and terrain. There are options we love — here are our 5 best hunting boots.
| | | | | |
| --- | --- | --- | --- | --- |
| | | | | |
| | | Great when you need to move around | | |
| | | | Good but not great in fridid temps | |
| | | Best on our list for very wet conditions | Overkill for dry conditions | |
| | | Extremely comfortable fit for most feet | | |
| Danner Pronghorn Realtree | | Ideal for dry, upland bird hunting | Not first choice for wet fields | |
Danner Men's Pronghorn Realtree Xtra 1200G
Best for Lots of Walking
For all types of terrains, the Pronghorn Realtree can be a hunter's first choice. They can always handle unpredictable environments while out and about. High-quality leather, dual-texture, and a camouflage pattern fabric are used to make this a great combination of good construction and attractive footwear.
We have used these boots for upland bird hunting, which often include trudging through some swamps and ditches, and the boots are both comfortable and dry.  They aren't cheap, but you are going to be getting a quality boot with these Danners.
Like many of the other boots on this list, the Pronghorns feature a combination of Goretex and Thinsulate, making for a trusted combination of source materials. We love the 8 inch height, which is ideal for many hunting spots, but perhaps a touch short if you are going to be mainly in long grass.
The boots are ideal for warm, drier conditions, and while they can handle some water, if you're hitting swamps, we might recommend something like the Alphaburly below.
Pros:
Comfortable for nearly all feet
Quickly molds to your foot and arch
Great for upland bird hunting
Cons:
Expensive
Waterproof but not good to fully submerge
Irish Setter Men's Vaprtrek Waterproof 8 Inch
Best Lightweight Boot
Weighing about 40% less than other hunting boots, the Vaprtrek boots are great if lightweight footwear is a priority.  The weather won't stop you with these boots, as the ultra-dry waterproofing system will keep hunter's feet totally dry all the time in any damp or shallow environment.  For that matter, the Irish Setters might also be a good fit even when you are not hunting and just need a good all-around waterproof hiking boot for your trek.
When we think lightweight boots, we think upland bird hunting in dry conditions.  Running after a dog that is chasing a pheasant — that is when a lightweight boot really excels.
A nice boot that is a little lower on the leg – it rises about 7 inches vs. the 10+ on many of the other boots – they double very well as an outdoor work boot. (Irish Setter also makes a higher calf Vaprtrek boot designed for high-risk snake areas).  If you want to use them for landscaping or farm activities, they shoot up the list in our opinion.  You just might want to think twice about using them in situations where you could be walking through soggy ditches or standing water, given the lower calf profile.
Pros:
Lightweight
Great for situations where you might find yourself running or climbing rocky terrain
Cons:
Not our top choice for swampy or wet conditions
Cabela's All-Leather Iron Ridge Hunting Boots with GORE-TEX
Best All-Around
Another awesome, durable hunting boot from Cabela's, this option is completely suitable for any hunting adventure in any season. They provide you with a 100% waterproof hunting trip with GORE-TEX lining and keep the rain or snow away from your feet. The exterior is made of waterproof, richly oiled, full grain leather.  Cabela's knows hunting, and that proves true in everything from their boots to firearm selection to hunting optics.
We love the strength of the steel shank, which makes this boot a top choice if you find yourself walking on uneven or rocky ground or covering terrain that has downed brush or other debris.
Testers note that the boots fit and feel great right out of the box, so you likely won't have to be too careful about how you break them in.  The insulation is probably in the medium range, but with the right socks you will be warm down to potentially the single digit temps.
The rich leather is the perfect material to coat with a good boot waterproofing spray. The combo of the quality leather and the waterproofing will make this a reliable boot even when you need to trek through some mud.
Overall, this is one of the better all-purpose hunting boots we have tried. They look great too.
Pros:
Great looking boot. You might wear these even when not in the field.
Very strong shank.  The boots we would want on if we stepped on a nail.
Extremely versatile.
Cons:
Insulation is good but not great. Will need heavy socks if in super cold conditions.
Expensive.
Lacrosse Alphaburly Pro Insulated Hunting Boots
Best for wet conditions
Do you need to keep water and moisture off your feet, ankles, and shins?  This is your boot.
The Alphaburly Pro 18 1000 is not for people on a tight budget, but is great for someone who needs a tough boot for cold and wet conditions.  The combination of neoprene (like the material used in wetsuits) and rubber makes a it perfect in wet elements such as duck hunting or crossing a bog.
What we like about these is the high leg coverage. You get 16 inches of solid coverage up the leg, and, without any tongue or laces to speak of, there is really no way for water to get in unless you happen to completely immerse the boot.  Where they really excel is when walking in tall, wet grass.  A gusset on the shin allows for you to adjust the tightness of the boot so they stay comfortable.
The insulation will help you stay warm, and we like that the neoprene/insulation system focuses on making the boots breathable so your feet don't sweat. The boots performed well when walking on rugged terrain, which was a pleasant surprise given that they look a bit clunky.
When we have used these boots, it has been for waterfowl hunting or big game hunting in wet conditions (some years are wetter than others — you just never know the hand you will be dealt).  They excel when you are in the muck and swamp.
Overall, these hunting boots are great for foul conditions, walking in long, wet, grass, and basically any condition that is not hot, dry, and rocky.
Pros:
Super waterproof.  The most watertight boot we reviewed.
High calf coverage.  Hard to step in water too deep for these boots, great for wet conditions.
Love the cinch at the top that fastens the boot to your calf.
Cons:
Not as breathable when in warmer or dry conditions
Not our top choice if walking over lots of dry ground
Cabela's Meindl Men's "Perfekt" Hunter Boots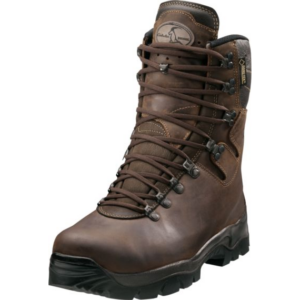 Cabela's Meindl Men's "Perfekt" Hunter boots are a favorite among hunters. They can be a bit on the expensive side, so you have to consider it a long-term investment. They boots have a breathable GORE-TEX layer, Thinsulate Ultra Insulation, a footbed with a moisture-managing layer, and a natural cork layer. All of this will keep moisture out, your feet dry, and your joints safe from shock, not to mention comfortable.
A good all-season boot, these do particularly well in colder weather. The DIGAfix lacing system provides a comfortable instep and heel, and there is no slippage inside the boot.
Our experience was that the boots form to your foot very quickly, and will become a very comfortable boot right away.  Because hunting boots get used a lot — and usually in back-to-back days — you might want to get a second pair of insoles.  That will give you a fresh, dry inside every morning, and likely prolong the life of the boot.
Construction quality is an A+, they feel great, and the boots are a nice height to keep burrs and seeds out of them. Every guide we have spoken to swears by them, and we have no problem recommending them to big game and bird hunters alike.
Pros:
Attractive boot and high-quality leather
Great fit for most feet
Strong shank
Cons: