If you're looking for a tropical getaway, then look no further than El Yunque! Located on the northeastern side of the island, this national rainforest is home to many waterfalls and hiking trails. It's one of the most popular tourist destinations in Puerto Rico, and for good reason – it's absolutely beautiful. Not many visitors are traveling here during these times, so it's an excellent place to visit if you want some bonding time with your loved ones.
Where is El Yunque?
El Yunque is located in the northeast corner of Puerto Rico, about an hour and a half from San Juan. There are many ways to get here, but the easiest is by car. You can opt to take Route 66 from San Juan or Route 191 to Rio Grande and then following the signs to El Yunque.
What Towns are Nearby?
The towns nearby El Yunque include Luquillo, Fajardo, and Rio Grande. All of these towns have their own unique charm and are worth exploring if you have the time. Luquillo is known for its laid-back beach atmosphere and food stands, while Fajardo is known for being home to the cruise ship port. Rio Grande is a small town with beautiful beaches and a few tourist attractions.
If you have the time, you should plan to visit one of the other towns near El Yunque to get a more well-rounded experience. You can also visit nearby islands, including Vieques and Culebra. These islands are known for their beautiful beaches and friendly people, making them hidden gems worth visiting in
Puerto Rico.
What's Unique About El Yunque?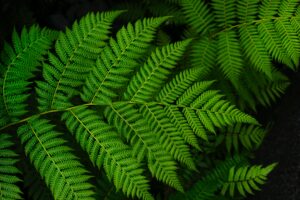 What makes El Yunque so special is its unique ecosystem. It's the only rainforest in the United States National Forest Service, and it's home to a few endangered animal species. These include the Puerto Rican parrot and the El Yunque tree frog. You'll also find many different vegetation types here, including orchids, bromeliads, and even bamboo.
The rainforest is a fascinating place to visit, with many beautiful waterfalls and hiking trails. El Yunque has cooler temperatures – it's a nice change from the heat and humidity of San Juan. One of the most unique gems of El Yunque is the Rio Camuy river. It's one of the longest underground rivers in all of North America, and you can explore this unique natural wonder by joining a cave tour.
Overall, the views are gorgeous, and there's so much to do. It's easy to spend an entire day here, especially if you're interested in outdoor activities and mother nature. There are also a few restaurants and gift shops, so you can easily spend an afternoon or evening exploring the surrounding areas. A great place to visit if you're looking for a change of scenery, the rainforest has something for everyone, from families to couples.
Because many visitors will not be local to Puerto Rico, packing for the trip will take some planning.  You won't be able to stuff things in your roof top cargo box to have at-the-ready.  You will need to think about what supplies you can buy once you get there, and what should take up your valuable baggage space.
What is There to Do at El Yunque?
There are many things to do at El Yunque, including hiking, birdwatching, swimming, and exploring. The most popular attraction is La Coca Falls, which you can hike to along the Cascadas Trail and Los Picachos Trail. The waterfall is about a two-hour hike from the entrance of the rainforest, and it's definitely worth the trip. If you're looking for a shorter hike, then head to the La Mina Trail, which is a half-mile long and takes you to a beautiful swimming hole.
Another great hike is to the Yokahú Tower, which offers fantastic views of El Yunque and the surrounding area. You can get to the tower by taking the El Yunque Trail to the Yokahú Tower. If you'd rather save your hiking for the beach, then take a trip to one of the beautiful beaches near Rio Grande. There are plenty of great spots along Route 191, including Playa Azul and Bahía de Los Mameyes.
Love to birdwatch? Then you should look into the El Yunque National Forest Birding Trail. The trail is eight miles long and takes you to many observation areas for birdwatching. Since you'll still be on a trail, be prepared to encounter lizards, frogs, and other animals as well. The type of birds you may find include the Puerto Rican parrot, Yellow-shouldered blackbird, and the Bananaquit. Don't forget to charge your camera and bring a pair of birding binoculars!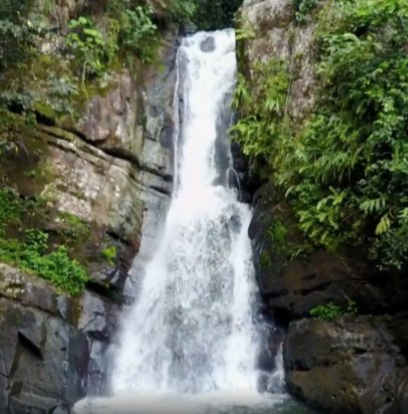 There is no shortage of waterfalls in the rainforest, including Brea and Yunque Falls. You can explore the rainforest by car or by taking a guided tour. If you want to hike, then we recommend going with a guide that knows the trails well. The rainforest has many activities available for families and groups, too. For example, you can go ziplining, horseback riding, or visit a nature center.
Leisure Activities
If you're looking for a more leisurely activity, then head to the El Yunque Information Center and take a walk through the El Portal Tropical Forest. The center has a snack bar, restrooms, and information about animal species in the rainforest. You can also go on a coffee tour. Puerto Rico has long been known for its delicious and high-quality coffee, and the best way to learn about it is by going on a tour. It's a lot of fun, and you can speak to the locals and make friends with other travelers.
There are plenty of restaurants near El Yunque that you can visit for lunch or dinner. We recommend heading to Luquillo and trying out some of the local food stands – you won't be disappointed! The food is cheap, delicious, and will definitely fill you up. A crowd favorite is the Coquito, a Puerto Rican drink made with rum, coconut cream, and cinnamon.
If you're looking for souvenirs, then head to the El Yunque Gift Shop. They have a wide variety of Puerto Rican souvenirs, including t-shirts, coffee, and local art. There are also several gift shops in Luquillo so that you can find the perfect souvenir for everyone on your list.
What to Watch Out For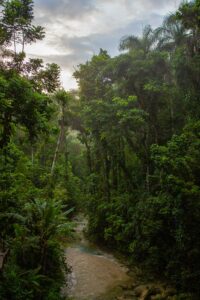 There are a few minor things to be cautious of, such as being careful not to touch the poison ivy and avoiding the waterfalls, especially if you have a fear of heights. There are also some areas that are restricted, including Rio Mar Beach. Of course, there will be signs if the area is off-limits, so make sure you follow them. In general, you can explore most of El Yunque without any issues.
If you're on a tour, be sure to listen to the guide and follow their instructions carefully. They're familiar with the area and know what's safe to do. Never stray off without permission, and don't try to climb any rocks or trees, either. Although this may sound like common sense, it's easy to forget safety when you're in a beautiful place like El Yunque.
If you find potentially dangerous animals or plants, avoid contact with them. With plants, play it safe by not touching anything you're unfamiliar with. Pictures are okay, but that's it! There are plenty of signs throughout the rainforest to keep you safe while hiking and exploring. El Yunque is very safe overall, but it's always important to be aware of your surroundings.
Where to Stay
There are several options for accommodations at El Yunque, including camping sites and small cabins along the trail near La Coca Falls. You can also find hotels in Luquillo or Fajardo if you don't mind driving up here during off-peak hours (if you're not comfortable driving Puerto Rican roads). Make sure to make reservations ahead of time because these places fill up quickly.
Some of the most popular hotels and resorts to stay near El Yunque include the Rainforest Inn, Wyndham Grand Rio Mar, Luquillo Sunrise Beach Inn, El Conquistador Resort, Courtyard by Marriott Isla Verde, and Hampton Inn & Suites San Juan. All these offer a wide variety of amenities, including complimentary breakfast, swimming pools, pool tables, free alcoholic beverages, Wi-Fi, and more. You'll find plenty of restaurants near them, too.
So, when is your trip to El Yunque?