Hiking the Florida Trail is unlike any other hiking experience in the country. Spanning 1,500 miles from Pensacola to Key West, the trails wind through swamps, forests, and beaches. If you're looking for an adventure that will take you off the beaten path, this is it! In this review, we will give you a detailed overview of what it's like to hike the Florida Trail. We'll talk about the different sections of the trail, where and when to go, and what you can expect along the way.
What is the Florida Trail?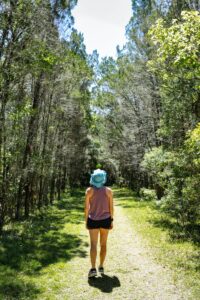 The Florida Trail is a hiking trail that covers the whole state of Florida. It includes more than 1,500 miles (over 2,400 kilometers) of hiking trails and has many different sections, including swamps, forests, and beaches. However, if you exclude road walks and trail gaps, the real distance of the Florida Trail is about 1,000 miles. The hikes often last for several days or even weeks at a time with stops in between to rest up before continuing on your adventure. If you're thinking of hiking the entire trail, you should be aware that it'll take you at least two months to complete. Hiking 1,500 miles is no easy feat! The trail itself can be divided into three regions, including the Panhandle region, Central region, and Southern region.
The Panhandle region is the northernmost section of the Florida Trail and includes hikes that go through the Apalachicola National Forest and the Ocala National Forest. These areas and many others are known for their lush vegetation and wildlife, including flatwood forests and terrains with hills that are along tannin-rich rivers. This region is ideal if you're looking for trails that are both challenging and peaceful at the same time. If you love history: there were Civil War battles and plantations here.
The Central region is located in the middle of the state and offers a mix of different terrains, including forests, prairies, marshes, and rivers. These areas are known for their flat terrain, which makes them ideal for beginner hikers who want to get a feel for what hiking is like without having to deal with steep inclines or difficult trails. You'll travel through pine and palmetto flatwoods, rolling sandhills, creekside hammocks, and floodplain forests that split in Eastern and Western corridors of Florida.
The Southern region is the southernmost section of the trail and includes hikes that also go through forests and swamps. More specifically, dwarf cypress swamps. This region is known for its humid environment, wet wilderness, and hardwood hammocks, which can be a bit of a challenge if you're not used to it. But if you're up for the challenge, you'll get to hike through some of the most exquisite areas in Florida.
When To Hike the Florida Trail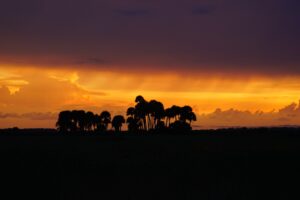 The best time to go hiking on the Florida Trail is during the fall, winter, and spring months, which are from October to April. This is when the temperatures are cooler and the rainfall is usually at its lowest. Backpacking long distances will be best from January to March. However, keep in mind that this may vary depending on where you're located within the state. For example, if you're hiking in Central Florida, you should aim to go during the winter months because it tends to be dryer than other parts of the state.
The weather is always going to be unpredictable, especially during the winter and because of hunting season in the fall, you'll want to start thru-hikes in the south and end in the north – from January to April. Keep in mind that you will need permits and reservations to access certain sites throughout Florida Trail, in all regions.
Permits are required for Big Cypress National Reserve, Seminole Reservation, Camp Blanding, St. Marks, and Eglin. Reservations are required for Bronson State Forest, Tosohatchee, Green Swamp, Blackwater Creek, Sulphur Creek, Seminole State Forest, Silver Springs, Cross Flordia Greenway, Stephen Foster, Holton Creek, Rattlesnake lake South, Pinelog State Forest, Blackwater Creek, Fort Pickens, and various campgrounds, lakes, rivers, and parks.
What to Expect On Your Florida Trail Hike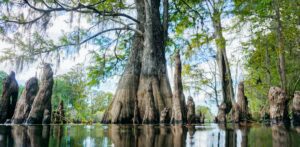 There are a number of amenities and campsites you can expect to find throughout the Florida Trail. If you're looking for a more comfortable and luxurious place to sleep at night, there are countless resorts, hotels, inns, and B&B's to choose from. Nearly all of them will offer amenities such as showers, toilets, electricity, running water, and Wi-Fi. Some places will even have dump stations for RVs, air-conditioning, swimming pools, bars, and more.
If you're looking for a more rustic experience, you can find yourself staying at one of the many campsites. They usually require reservations. Most will have picnic tables, fire pits or grills, bathrooms, showers, and running water. Others may offer RV sites and cabins to sleep in. There are also wilderness campsites that allow you to stay there for free. These can be found at the various state parks, forests, and recreation areas. However, you will need to bring your own water and food with you, as well as pack out everything you brought with you. There are also group sites, which will cost a little more but allow larger groups to camp together in the same area.
Panhandle Region
The Panhandle region offers a mix of camping opportunities, including primitive and developed campsites. You'll find the majority of campgrounds in the Blackwater River State Forest, which has over 100 miles of trails. There are also dispersed camping areas located throughout the state forests that allow for more primitive camping experiences.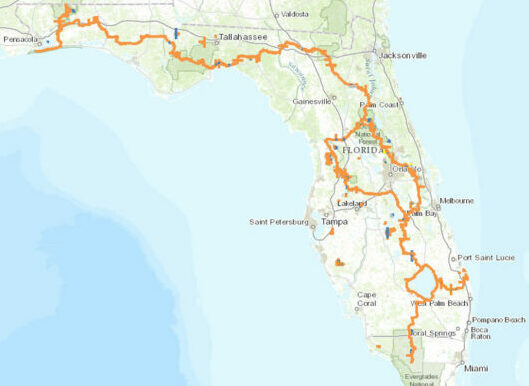 Central Region
Central Florida features a number of developed campgrounds, which offer RV sites, showers, toilets, and water access. The most popular ones include Lake Kissimmee State Park, Paynes Prairie Preserve State Park (Gainesville), Silver Springs State Park (Ocala), and St. Marks National Wildlife Refuge along with Eglin Air Force Base Reservation on the western edge.
Southern Region
Southern Region is home to the Florida Trail's most popular backpacking destination, the Ocala National Forest. This area is known for its vast wilderness and offers a wide range of camping opportunities, from dispersed camping to developed campgrounds with all the amenities you could hope for, including showers, toilets, and clean water.
Note that one spur of the Florida Trail goes in to the Everglades.  For this section, be prepared for additional swamp-native elements.
Safety Considerations When Hiking the Florida Trail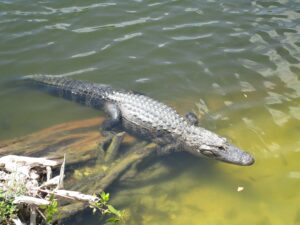 As mentioned earlier, safety is a factor any time you are hiking. Remember your universal hiking tips, and remember that in Florida you are dealing with creatures like gators or mosquito populations.
It's imperative that you plan far ahead and prepare thoroughly for your hike. Be sure to always follow all the safety guidelines. There are a number of poisonous snakes and spiders that call the Florida Trail home, so take precautions when hiking in these areas. There are bears and they can be dangerous if startled, so stay alert and never leave food or scented items unattended. You could also run into alligators and panthers – always stay a safe distance from any wildlife.
Mosquitoes and Ticks
Mosquitoes are also prevalent throughout the state, and the humid conditions are also kind to ticks.  You may encounter both, so be sure to pack good tick and mosquito repellent. Wear long pants, a long-sleeved shirt, and closed-toed shoes when hiking the Florida Trail to prevent bites from bugs and other wildlife.
Poisonous Plants
There are several poisonous plants including poison ivy, poison oak, poison sumac, poisonwood, and stinging nettle that can cause skin irritation. Get familiar with these plants and avoid contact with them.  Obviously, don't eat any mushrooms or berries if you don't know exactly what they are.
Water
The humid conditions in Florida, and the warm temps and hot sun, can zap your body of hydration in a hurry.  You will want to be sure you not only pack water, but also know where the potential water refill areas are along the trail.  Be sure to carry enough water bottles (We like the Owala water bottles).  It is possible that fluids will be the heaviest thing in your backpack, but you don't want to skimp and run out.
Weather
The weather can pose a threat if you're not careful, too. Thunderstorms and hurricanes aren't uncommon, so it's crucial to check the forecast before you head out on your hike. But note: Florida weather is somewhat unpredictable. Even if there's no rain in the forecast, you'll want to take precautions as it could change quickly. Pack rain gear and other weatherproof items just in case. And during hunting season, wear a blaze orange safety outfit to stand out!