Door County, Wisconsin, is a special place. Situated on the "thumb" of Wisconsin, jutting out into Lake Michigan, it has a climate, feel, and terrain all its own.
Door County is a bit of a mecca for foodies, hikers, and cyclists alike.  If you are into hiking and headed to door county, remember your hiking shoes or boots and check out our five favorite trails. It is some of the best hiking in Wisconsin.  I have personally hiked all five of these trails, and they all have a very different personality.
Here are the five remarkable hiking trails that offer a range of experiences for hikers and explorers. From easy strolls to challenging treks, these trails allow Door County active visitors to immerse themselves in the region'. Let's take a closer look at each hike, including their unique features and difficulty levels.
5 Best Door County Hikes
Peninsula State Park – Fish Creek
As far as I am concerned, the star of the show in Door county is Peninsula State Park.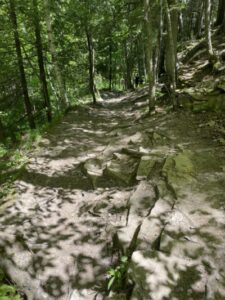 Within Peninsula State Park's 20 miles of scenic trails lies a variety of options suitable for all skill levels.  The hikes here are the type that wind and intersect, so you can customize your trail by connecting different segments. It is also helpful to have a map with you or on your phone, as you might encounter some forks in the trail where it is good to know which one to you want to stay on.
For a leisurely hike, the Sunset Trail provides a relaxed walk through peaceful woodlands and offers glimpses of stunning sunset views over the expansive Green Bay.
More adventurous hikers can tackle the Eagle Trail, which offers a moderate challenge (difficult in a few select parts) with its rugged terrain, rocky bluffs, and rewarding panoramic vistas. This 2.7-mile trail is perfect for those seeking a bit of an adrenaline rush.
The Eagle Trail starts up near the main road but then quickly heads downward toward Lake Michigan. Once there, you are going to get great views of the lake – and you can stick your toe in the water if you want – but the footing will be rocky and rough.  Walk carefully in parts to avoid hiking injuries. I would not advise any who has difficulty walking doing this hike — there are a few spots where a 3-foot step, or a stretch over very uneven rocks, is required.
Difficulty Level: Easy (Sunset Trail) to Difficult (if you do Eagle Trail.)
Cave Point County Park – Jacksonport
Cave Point County Park presents an awe-inspiring hiking experience along the picturesque shores of Lake Michigan. The Whitefish Dunes Trail offers an easy stroll through verdant forests, leading hikers to stunning views of limestone cliffs and turquoise waters. It is a great hike if you want to get a sense of what Door County and the Lake Michigan lakeshore are all about.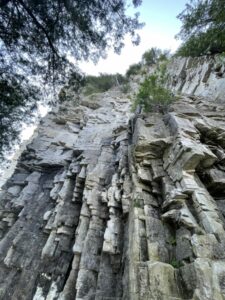 For those seeking a shorter and more accessible hike, the Lakeside Trail showcases the park's great, expansive scenery, including taking a look at underwater caves and fascinating rock formations.  Pretty cool, and easy if you forgot your hiking boots.
Difficulty Level: Easy
Whitefish Dunes State Park – Sturgeon Bay
Whitefish Dunes State Park has the advantage of being the first hike you will have access to, assuming you are coming from the West, North, or South which is pretty much 100% of the visitors to Door County.
Whitefish Dunes boasts a diverse range of hiking trails that traverse sand dunes, meandering forests, and pristine beaches along the Lake Michigan shoreline. The Red Trail provides a moderate challenge, guiding hikers through dense woodlands and revealing panoramic views from the top of the dunes. The trail also offers access to beautiful sandy beaches, perfect for a refreshing dip in the lake. It might be the best place to go for a quick swim if your bucket list include a dip in Lake Michigan.
Difficulty Level: Moderate
Newport State Park – Ellison Bay
Newport State Park is a haven for those seeking solitude and immersion in nature. With over 30 miles of hiking trails, ranging from easy to challenging, there's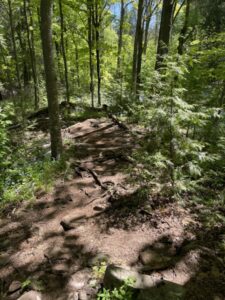 something for everyone. The Europe Bay Trail is an easy hike that winds through lush forests and rewards hikers with tranquil views of Europe Lake. For a more demanding adventure, the Newport Loop Trail offers a rugged and remote experience, taking hikers on a 14-mile loop through untouched wilderness.
Difficulty Level: Easy to Difficult
Ridges Sanctuary – Baileys Harbor
As one of the most unique ecosystems in Wisconsin, the Ridges Sanctuary offers a captivating hiking experience for nature enthusiasts. The Sanctuary's Hidden Brook Trail provides an easy and family-friendly hike, meandering through lush forests and offering glimpses of the diverse plant and bird life that call this area home. For a more immersive experience, the Upper Range Light Trail leads hikers through a historic maritime forest to the site of a former lighthouse.
What sets Ridges Sanctuary apart is its rich history and unique ecological significance. Established in 1937, it was the first land trust in the state of Wisconsin, pioneering the concept of nature preservation long before it became a widespread practice. Its mission to protect and restore the fragile ecosystems that call this place home has made it an invaluable asset to environmentalists and nature enthusiasts alike.
The sanctuary spans over a square mile — 1,600 acres of diverse landscapes, showcasing a remarkable array of habitats, from lush forests to shimmering wetlands and pristine beaches. At its heart lies a network of ancient, winding ridges formed by the retreat of the last glacial age, providing a dramatic backdrop for exploration and discovery.
Venturing into Ridges Sanctuary is a treat for nature lovers. The trails hold a symphony of sights and sounds that surround you. Delicate wildflowers carpet the forest floor, their vibrant hues painting a tapestry of colors against the emerald green backdrop. Towering white cedars and ancient beech trees create a cathedral-like ambiance, their gnarled branches reaching towards the sky.
Wildlife enthusiasts will be thrilled to encounter plenty of fascinating Great Lakes area creatures along their journey. The sanctuary is a haven for over 300 species of birds, including the endangered Henslow's sparrow and the elusive eastern whip-poor-will. Patient observers might catch a glimpse of the rare regal fritillary butterfly fluttering through the sunlit glades or spot a white-tailed deer gracefully meandering through the undergrowth.
One of the highlights of Ridges Sanctuary is its acclaimed interpretive center, where visitors can delve deeper into the natural wonders of the area. Here, interactive exhibits and educational programs offer a fascinating insight into the unique ecology of the sanctuary.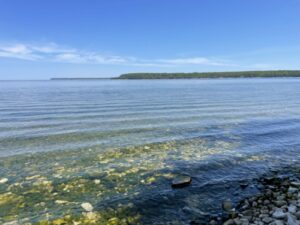 Difficulty Level: Easy to Moderate
Door County's Towns
You can't talk about hiking Door County without summarizing the great, quaint, Hamptons-like towns that dot the coast.  Here is a quick overview for you, as these will be important pit stops along your search for great hikes.
Fish Creek
Fish Creek, sometimes referred to as the "Cape Cod of the Midwest," is a charming town known for its quaint atmosphere and artistic spirit. It is right on the ege of Peninsula State Park, which holds our #1 hiking trails…. so I guess if you are going to choose one home base here for hiking, it would be Fish Creek.
Stroll along Main Street, lined with boutique shops, art galleries, and cozy restaurants. There is a great deli on the main street if you want a to-go sandwich and an apple. The town's history dates back to the mid-1800s when it served as a prosperous logging community. Today, remnants of its past can be seen in the beautifully preserved historic buildings, such as the Noble House Museum, offering visitors a glimpse into the region's early days.
Sturgeon Bay
Sturgeon Bay is a working town. It is the first town you hit in Door County, and has the hospital, larger stores, and other necessities.
As the largest town in Door County, Sturgeon Bay offers a mix of small-town charm and bustling activity. With a rich maritime heritage, Sturgeon Bay was once a prominent shipbuilding center, constructing vessels that navigated the Great Lakes. Explore the Door County Maritime Museum to learn about the town's seafaring history and admire the towering steel bridge connecting the city. Sturgeon Bay's lively downtown area is filled with shops, restaurants, and art studios, showcasing the town's vibrant culture.
Baileys Harbor
Baileys Harbor, a picturesque town nestled on the eastern shore, offers a serene and idyllic setting. The town's history is deeply intertwined with its natural surroundings, as it served as a crucial hub for logging and fishing industries. Explore the Ridges Sanctuary, a historic landmark and the first land trust in Wisconsin, which protects the unique ridges and swales landscape. The Cana Island Lighthouse, standing proudly on a small island just off the coast, is another notable attraction that transports visitors back to a time when lighthouses guided ships safely through treacherous waters.
Ephraim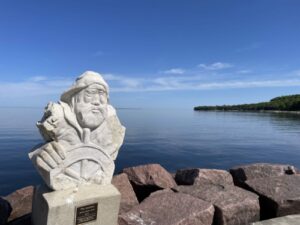 Known by some as the "Crown Jewel of Door County," Ephraim exudes a distinct Scandinavian charm. The town's roots trace back to Norwegian and Moravian settlers who established Ephraim as a religious community in the mid-1800s. Today, visitors can explore the historic Anderson Store, a museum showcasing the town's heritage, or take a leisurely walk along the picturesque waterfront. Ephraim's charming white buildings, adorned with colorful flower gardens, create a postcard-worthy scene that captures the essence of Door County.
Sister Bay
Now you are getting way up toward the tip of the peninsula.
Sister Bay, a vibrant and lively town with a decided Scandinavian feel, offers a mix of natural beauty and modern amenities. One of the town's most iconic landmarks is the Sister Bay Marina, where visitors can enjoy breathtaking views of the bay, rent boats, or embark on a fishing adventure. Sister Bay is known for its lively festivals and events, such as the Fall Fest and the Scandinavian Midsommar Festival, celebrating the town's heritage. Stroll along the waterfront promenade and explore the unique shops and restaurants that make Sister Bay a lively hub for locals and tourists alike.  Try Al Johnson's Swedish restaurant for some local flavor, complete with goats (live) grazing on the rooftop.  Great for breakfast, brunch, or a shot of Aquavit later in the day.
Egg Harbor
Egg Harbor is the first major town you come to after passing through Sturgeon Bay.  The area has a couple larger resorts so can be a great option for groups that need plenty of space.  The Marina and Harbor are well-protected and have great views across the lake and of the Northern door county lakeshore.  There are some good restaurants and shops in town, along with the Egg Harbor Taproom – a good Great Lakes Brewery – and Mezzanine Restaurant which offer some after-hours options.  I am a big fan of home-basing in this area.