The Black Hills and Rapid City have a lot to offer to outdoor enthusiasts. The scenery is unbelievable, and there are many different hikes that one can take throughout this beautiful region in South Dakota. We'll discuss what makes the Black Hills so special as well as some of the best hiking trails in the area. If you're looking for a new destination or just want to learn more about what's offered here, keep on reading!
Exploring the Black Hills of South Dakota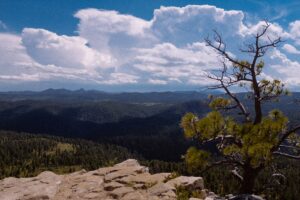 The Black Hills are a low-elevation, rugged mountain range located in western South Dakota. This area is known for its stunning scenery and abundance of outdoor activities, including hiking, camping, biking, and rock climbing. The Black Hills National Forest and the Wind Cave National Park are located within this range, making it one of the most popular destinations in South Dakota.
With elevations topping 7,000 feet, the city of Rapid City sits at about 3,200 feet.
The unique beauty of the Black Hills is best seen during Autumn when deciduous trees change colors and leaves fall from branches. This area also sees a fair amount of snow in the winter, so be prepared if you're visiting during that time. As you're exploring the Black Hills, keep your eyes open for bison, elk, deer, and other wildlife.
Countless travelers visit the Black Hills each year and it's important to be mindful of wildlife and respect their space. The area is considered sacred land to the Sioux tribe. It's a great place for getting in touch with nature as well as an excellent location for experiencing all that mother nature has to offer.
What to do around the Black Hills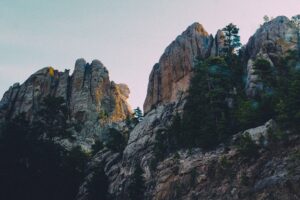 The Black Hills offer plenty of activities for outdoor enthusiasts. Hiking, of course, is one of the most popular things to do in this region, and there are several trails to choose from. The Black Hills are also a great place for mountain biking, rock climbing, and even horseback riding.
You can travel to the nearby Cheyenne River Indian Reservation as well as the Mount Rushmore National Monument. The Sturgis Motorcycle Rally usually takes event every August, which is the go-to spot for motorcycle enthusiasts.
If you're looking for something a little more laid-back, Rapid City is a nearby town that offers plenty of restaurants and shopping. The area is also known for its vibrant nightlife. So, if you're looking to hang out with friends or spend some time on your own exploring, Rapid City has many options. There are plenty of bars, restaurants, shopping centers, and movie theaters as well as the Museum of Geology.
Best Hikes Around the Black Hills
There are many different hiking trails throughout the Black Hills from which visitors can choose depending on their interests and abilities. These trails offer beautiful views of the surrounding landscape as well as opportunities to see wildlife.
Cathedral Spires Trail
One excellent hike for all skill levels is the Cathedral Spires Trail. The trail has a small elevation gain of 149 meters and is only 1.6-miles long. You can easily hike the trail within a couple of hours. The best time to go is during the fall when the trees change color.
The trail is well marked so it's easy to follow, and it passes by some of the most iconic rock formations in the Black Hills. You'll also get great views of Spearfish Canyon and the Needles and Cathedral Spires.
Little Devils Tower Spur Trail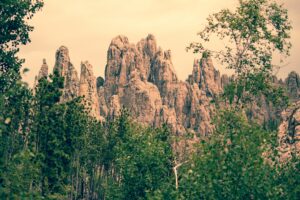 Another great option is the Little Devils Tower Spur Trail. This trail offers a bit of everything and will appeal to those who are looking for an adventure. Just over 3.6 miles long, it's a bit more challenging than Cathedral Spires with an elevation gain of 229 meters. Most can complete the trail in four to five hours.
This trail is less traveled than the Cathedral Spires Trail, so you're more likely to see wildlife on this hike, from deer to jackrabbits to lizards and even snakes. It's also a great spot for bird watching, so bring your binoculars if you have them! Be careful not to get too close to anything that looks dangerous, though.
You'll pass through some beautiful landscapes and cross over a couple of small streams along the way. There are also plenty of places to stop for taking pictures on your hike.
Black Elk Peak Loop
For those looking for a more challenging hike, the Black Elk Peak Loop is an excellent option. This trail has an elevation gain of 448 meters and is slightly over 7 miles long. It usually takes hikers about six to eight hours to complete the loop, but it's best not to rush as there are plenty of fascinating sights to see along the way. This trail is perfect for those looking to get a little exercise or spend some quality time outdoors.  Just be sure you are prepared for a longer hike and have some basic hiking skills — this is one that will require some physical exertion.
It's arguably the best hike in South Dakota, as it offers incredible opportunities to see wildlife and some of the most beautiful scenery around! You'll also get a chance to summit Black Elk Peak, the highest point in the state. Black Elk Peak is called South Dakota's Highpoint, so it will definitely be an accomplishment if you make it to the top. It can get a little windy and rocky toward the top, so take your time.
Roughlock Falls Trail
Roughlock Falls is a wonderful trail for families, especially those with younger children. It's relatively short, being only about two miles long, and has an elevation gain of just 74 meters. It'll almost feel more like a walk than an actual hike, so take that into consideration if you want something more robust. The best time to go is during the spring when you can see all the wildflowers in bloom along the way as well as Roughlock Falls. It can get a little busy, so you may want to start your hike early.
Many visitors take photos along the trail and at the falls, and you'll see why when you get there. So, bring your camera and make sure you get a few shots before heading back on the trail. You'll see some beautiful landscapes on this hike, and the 50-foot falls is a must-see. Be careful when you're around the water as it can get slippery.
Where to Stay
There are plenty of places to stay in the Black Hills, depending on your budget and preferences. There's everything from campgrounds to hotels, motels, and bed and breakfasts. Make sure you book early if it's during the peak season as many places fill up fast!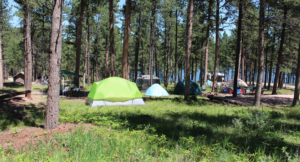 Campgrounds
The most popular include Rod and Gun Campground, The Ditch Creek Campground, Kemp's Campground, Pactola Reservoir Campground, Hanna Campground, Spearfish Holiday, and Kemp's Kamp. The campgrounds offer a variety of amenities such as showers, bathrooms, and electrical hookups.
The Black Hills National Forest also offers numerous, clean campsites, although they tend to be a little close together.  Great place if you just want to pitch a smaller tent for the night.
The surrounding views at most of these campgrounds consist of beautiful pine forests and rolling hills. It's the perfect place to spend an outdoorsy weekend with friends and family.
In addition to formal campgrounds, you can also look for options on sites like Hipcamp.  This can be an excellent alternative if you are using an RV or roof top tent.  You just might get to stay on a ranch and have the entire place to yourself.
Other accommodations
If camping isn't your thing or if you're looking for a place to stay that offers more modern amenities, there are plenty of hotels and motels in the area. Some of the most popular ones include The Rushmore Plaza Hotel, Best Western Canyon Lodge & Suites, Super Eight Motel, and More Inn, Comfort Inn Spearfish/Spearfish Lake Area, and Days Inn Spearfish.
These accommodations offer everything from basic amenities including televisions, microwaves, cold fridges, hot showers, and free Wi-Fi to more luxurious options including whirlpool baths, swimming pools, and fantastic views from the rooms. There are also many nearby restaurants if you want a nice place to dine in.
Winter Black Hills Activities
Don't assume that the only time to visit the Black Hills is in the summer.  This area can get cold, but the crowds are much lower in winter, and it opens up a whole new set of possible activities.
Snowshoeing has become really popular in the Rapid City, Spearfish, and Black Hills area.  With a good pair of snowshoes, you can explore many of the trails that are normally hiked on in summer.  The Centennial Trail, Mickelson Trail, and the Iron Creek Trail are all popular snowshoe routes, among others.  Some of the great snowshoeing is near Spearfish.  If you don't own your own pair of snowshoes, find an outfitter and get some free route advice with your rental.
Snowmobiling excursions can also be a fun way to explore, but be sure you have safety in mind.  While the risk of avalanches is not like what it might around Yellowstone, snowmobiles are fast and dangerous and need to be handled with care.  There are a few good spots to rent snowmobiles, again many of them in the Spearfish area.   They can put you on the roughly 350 miles of groomed snowmobile trails in the area.